Ain't That a Stitch: Denyse Schmidt Quilts
Ain't That a Stitch: Denyse Schmidt Quilts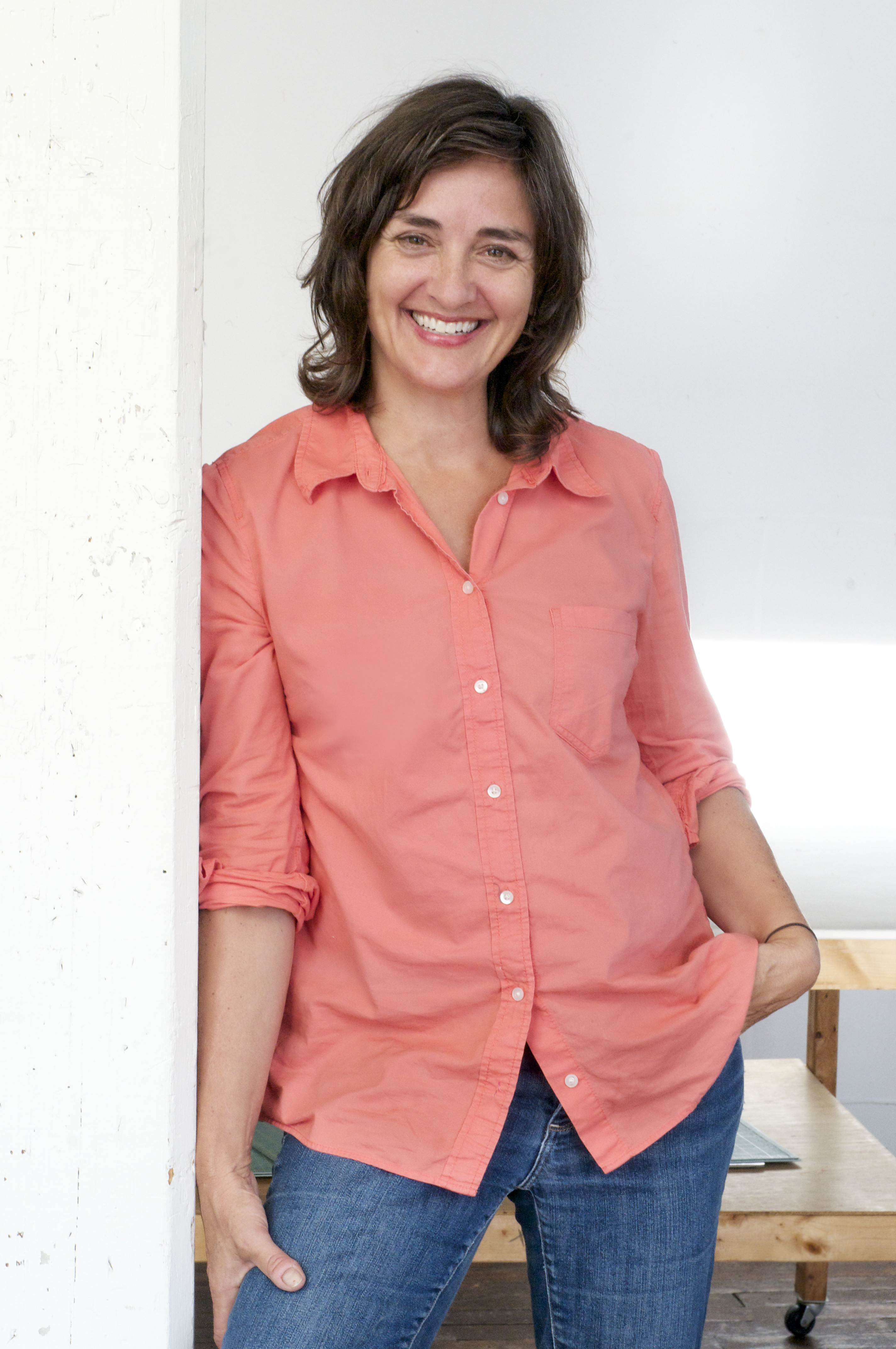 Portrait of Denyse Schmidt - photographed by Gale Zucker
Denyse Schmidt is a quilter, designer, entrepreneur, and educator whose work has been featured in leading craft and shelter publications such as American Craft Magazine, Metropolitan Home, Dwell, Martha Stewart Living and diverse publications including Oprah, The Wall Street Journal, The New York Times, and Wallpaper*. Her work has been commissioned by hotels, retail chains, art institutions, and individuals. Through dquilts.com you can view her quilts, learn about the artist, and peruse her collection of patterns, fabric panels, templates, and paper goods. Despite her busy schedule she was able to step away from needle and thread to tell me about her career as a maker. Long story short, Denyse has always been crafty; she started sewing at age 8 and never stopped. Growing up in central Mass she was inspired by parents who were career professionals and skilled hobbyists in furniture making and sewing. Schmidt studied at RISD and concentrated in graphic design Scamp Font, anyone?.
After graduation she moved to Connecticut, but felt isolated and longed for a sense of community. She found her place in the world of fabric arts, taking challenging work as a seamstress and quilting on the side. Quilting took center stage as she began designing quilts to be hand-sewn by Amish women artists. Her bold, kinetic, color-drenched quilts were featured in a 1996 New York Times article positioning her as the vanguard of a new era for folk art traditions. Her career took off. Schmidt humbly filled me in on the details. Around the turn of the millennium there was a renewed interest in quilting and quilt guilds culminating in the founding of the Modern Quilt Guild. The group pays homage to Schmidt on their site, asserting her 1998 feature in Martha Stewart Living as a key inspirational moment for quilters working in the modern. They cite her 2005 book, Denyse Schmidt Quilts as a fundamental early influence alongside the Quilts of Gee's Bend exhibits and books by renown modernist quilters Weeks Ringle and Bill Kerr and Yohsiko Jinzenji.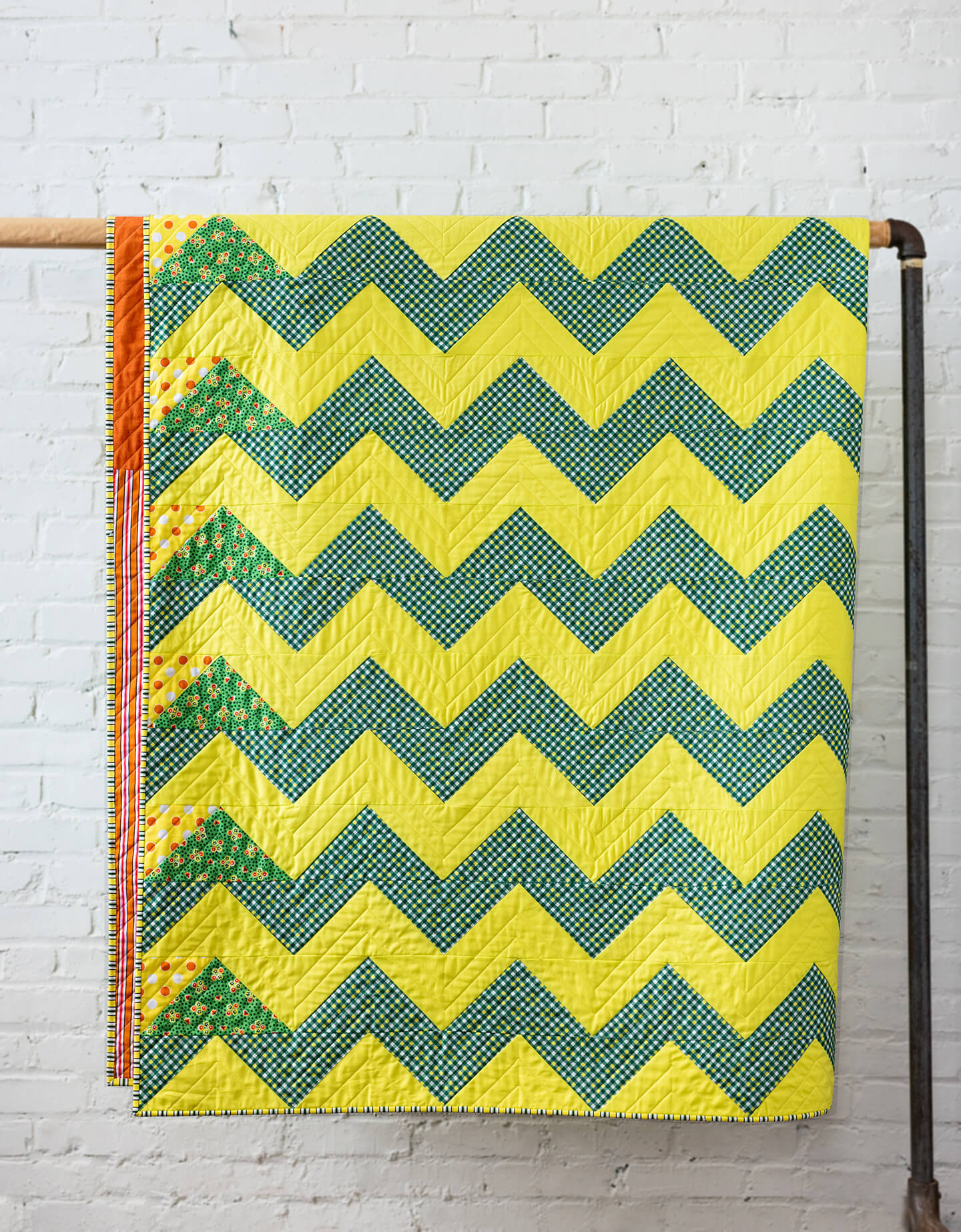 Streak Five+Ten Rack photo credit Melanie Zacek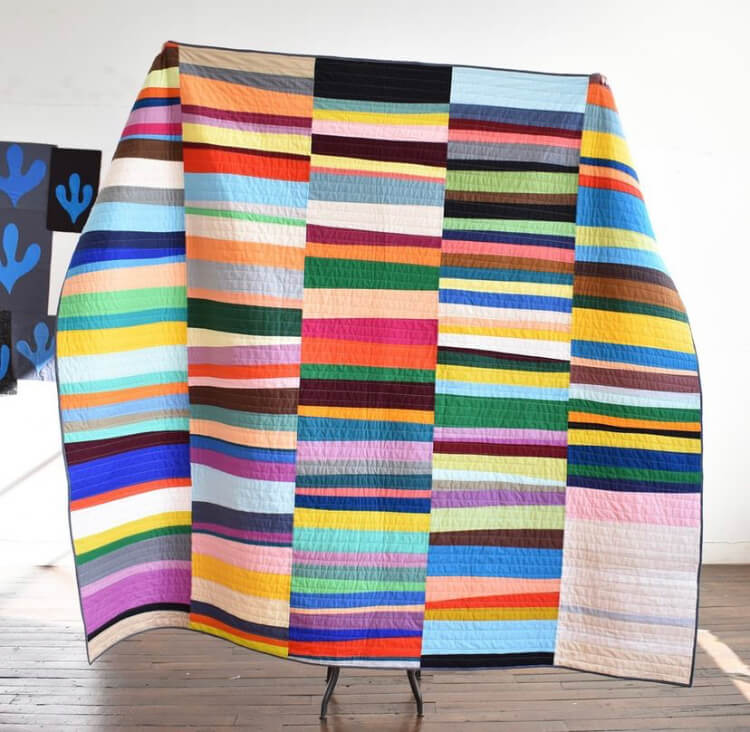 A Different Stripe - photo credit Melanie Zacek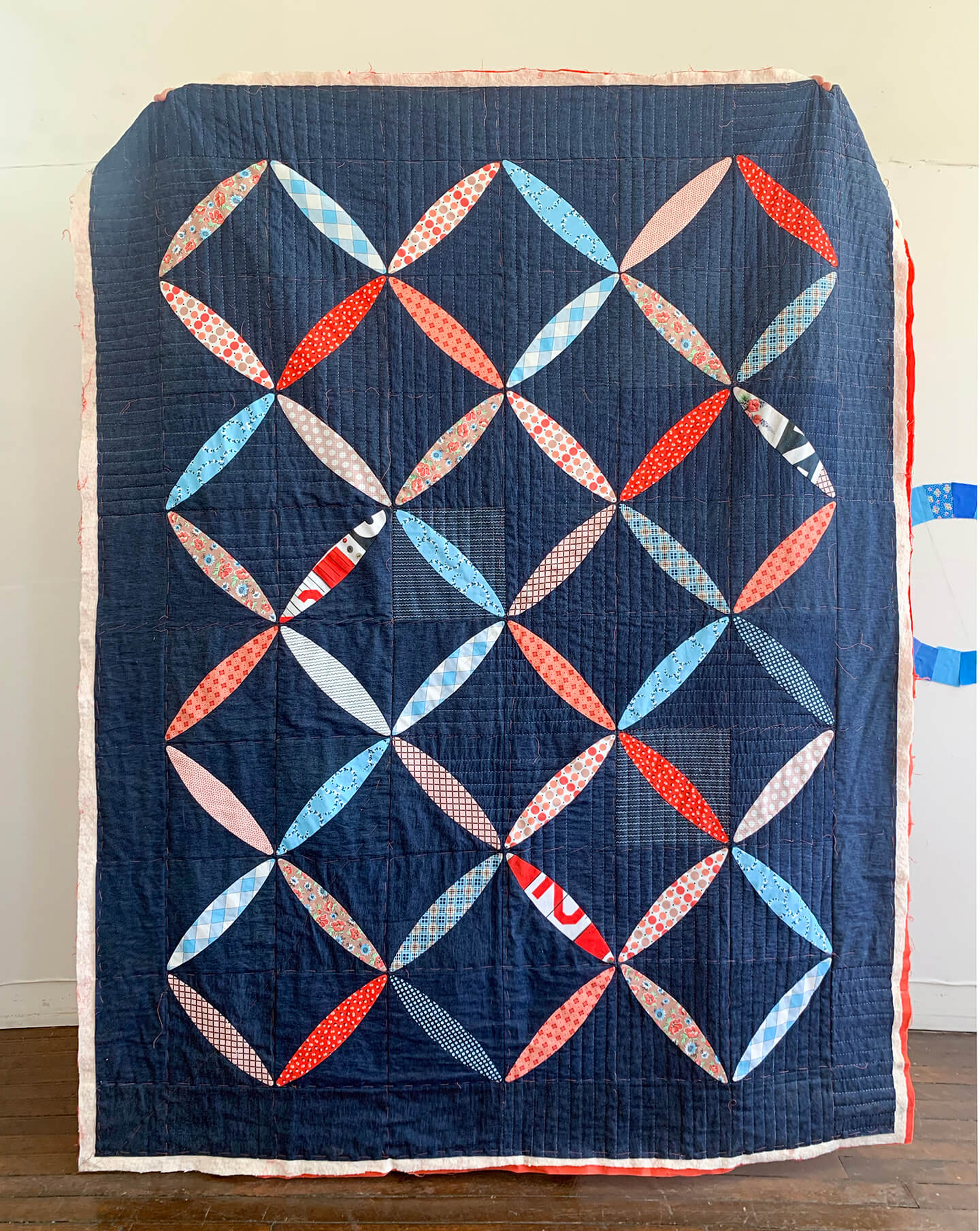 Flower Chain - photo credit Melanie Zacek
Schmidt doesn't reject the tributes or the term modern as it applies to her work, yet is hesitant to quantify its meaning. She prefers the term contemporary, but offers that she is excited about how the modern quilting movement has developed. What began as quilters connecting in the nascent blogosphere has flourished into a community of over 15,000 guild members. She has happily observed as modern quilting has become more current and niche. The work is "more authentic to the maker" while still respecting and drawing from traditional techniques and forms.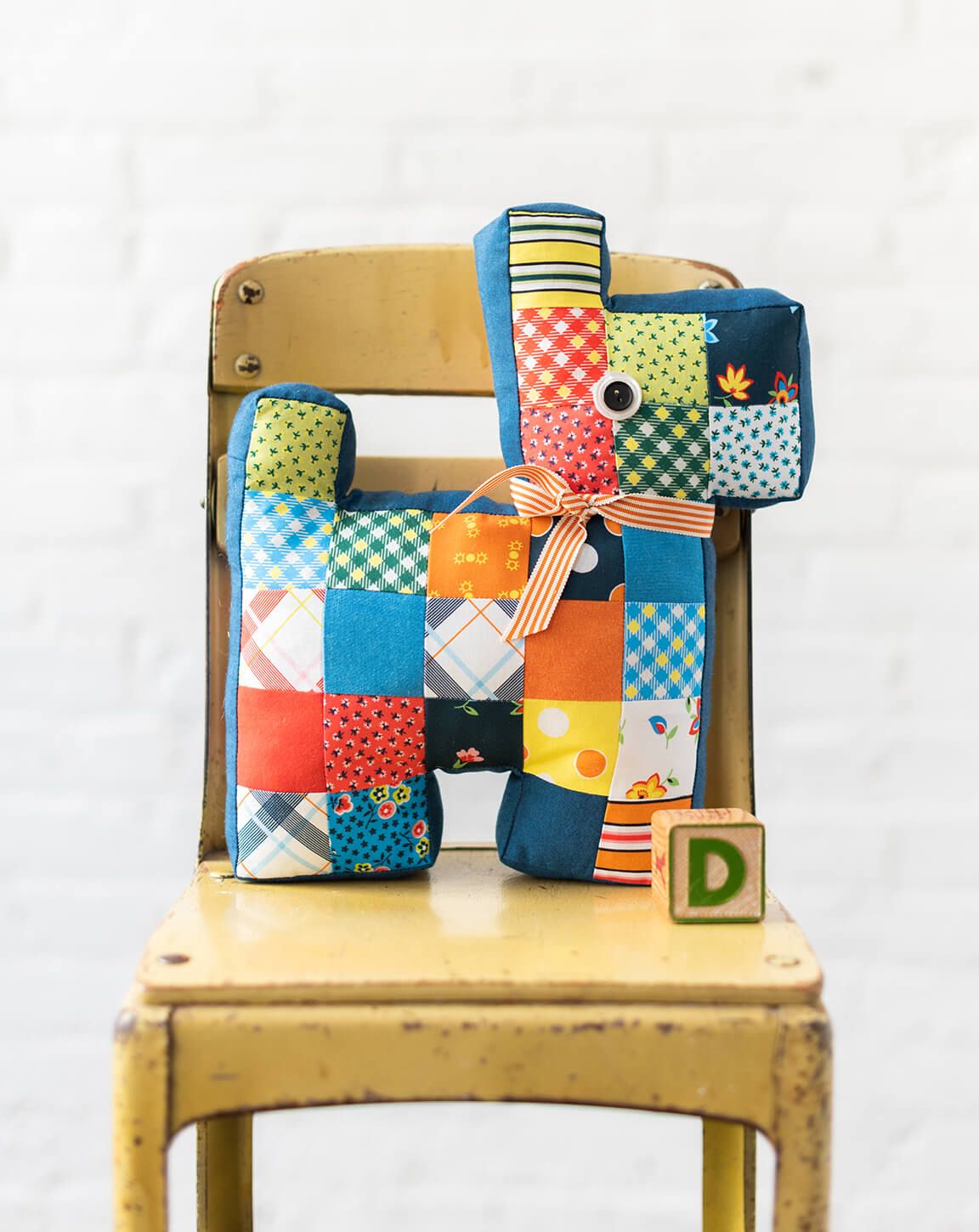 Scottie Dog - photo credit Melanie Zacek
Speaking of contemporary, I had to ask the obvious question – what had Denyse been working on during the pandemic? She has a partnership with Windham Fabrics creating lively geometric and floral motif all-cotton prints for independent quilt and fabric stores and is working on new direct-to-consumer designs that incorporate patchwork elements on a single fabric bolt. To realize this project she is mining a trove of archived designs and creating collage fabrics that can be used for quilting or however the maker desires. It is a clever way of repurposing, up-cycling, and extending the lifecycle of early designs that have retained popularity. It saves the would-be end user from having to purchase myriad cut scraps of fabric to get a variety of samples and makes a pretty cool mask and jacket combo.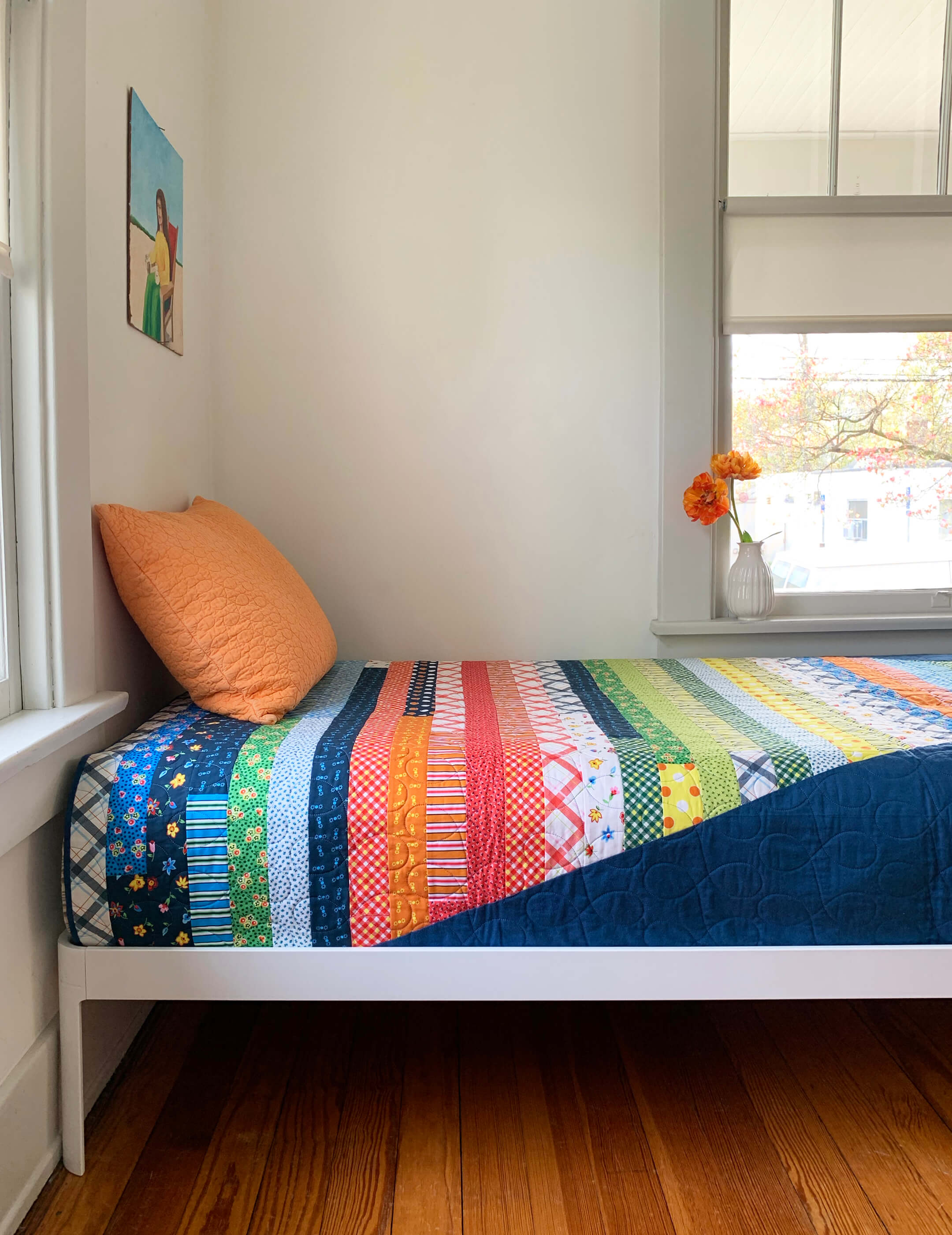 Big Tree - photo credit Melanie Zacek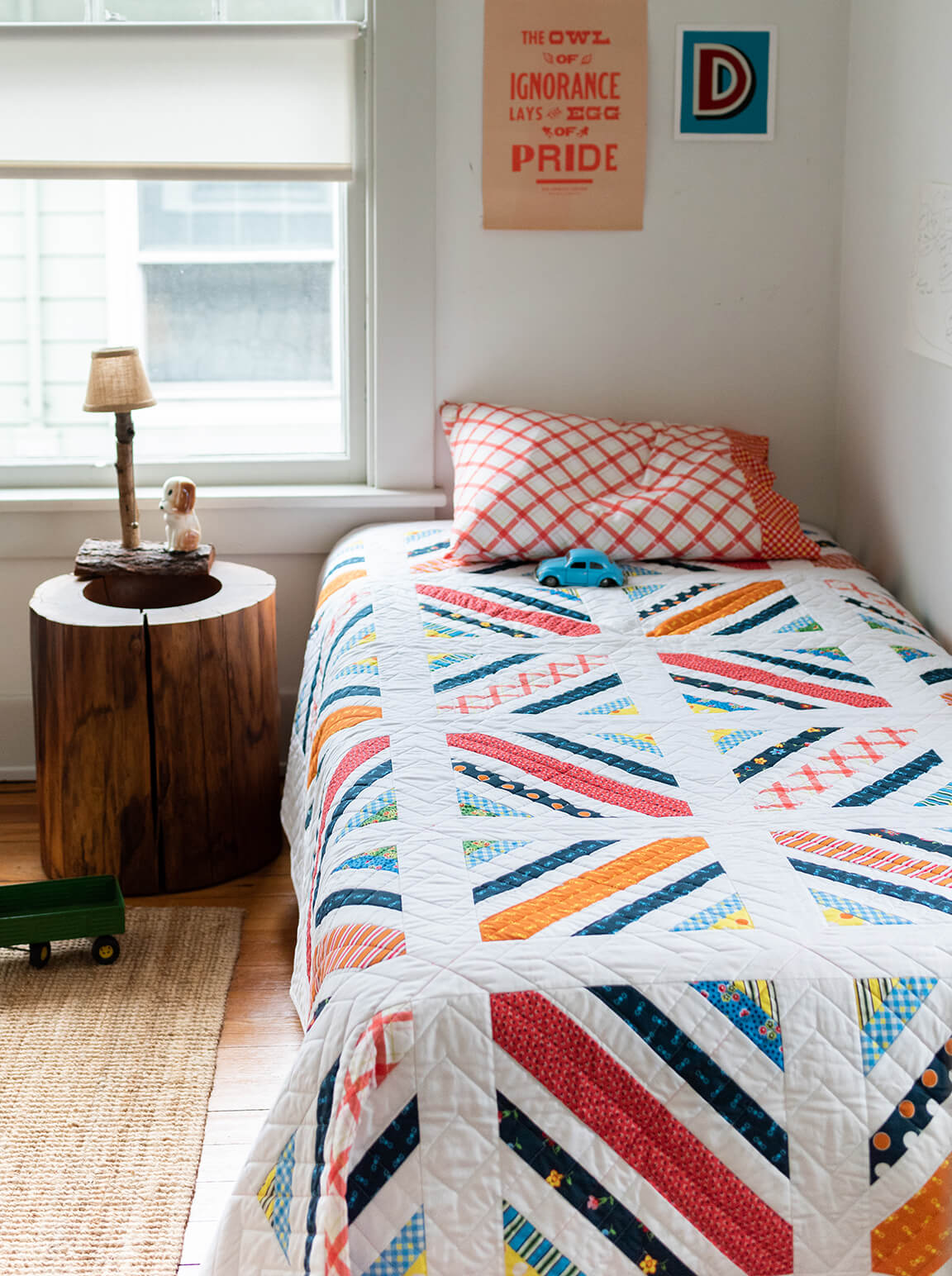 Between the lines - photo credit Melanie Zacek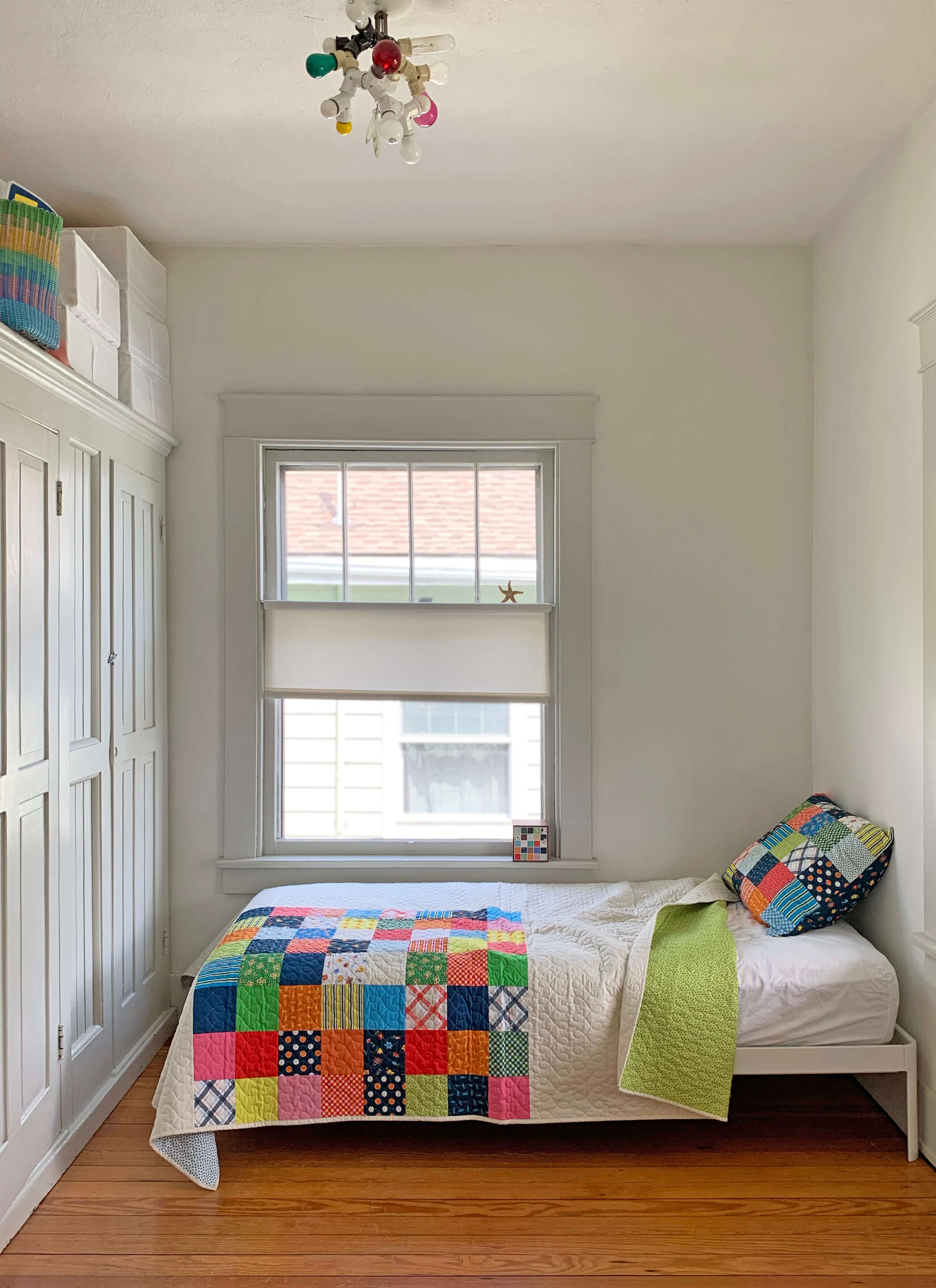 Big Charmer - photo credit Melanie Zacek
Schmidt's work is accessible to all. She works with individuals and groups to create custom and couture quilts for designated spaces and to commemorate significant occasions. With significant client input she creates a mood board to guide the design process. The board may incorporate images that appeal to them, colors they love, and representations of the event they wish to immortalize. She may also see images of or visit the location where the finished piece will reside. She then uses this input to create a design that will be rendered by hand and machine in appropriate fabrics. Schmidt's enthusiasm about these projects is equal to her passion for quilts. For her, "what makes it [a quilt] so cool is that it occupies a significant place in your lives. You are laid to rest under it, you have sex under it...you sleep on it, when you are sick you recover in it." Her art is not just décor, it performs important functions within a household. A client celebrating a milestone anniversary during which they will perform a dance to a Stevie Wonder song requested that movement and music be incorporated into a quilt for their home. To achieve this Schmidt is considering incorporating textual elements into the design as she had in talking quilt "Yes We Can" (2008). That work echoing President Obama's message of hope and change was commissioned by Michigan State University for their permanent collection.
Schmidt honors the social and community traditions of quilt making through classes and workshops. She recently produced a quilting event for a 60th birthday party that featured a full day of quilt making and a delicious meal. To prepare for the event the party guests contributed fabric that was cut and prepared by Schmidt's team for her intuitive Improvisational Piecing technique. Schmidt developed the method when she was teaching in 2003 at MAKE Workshop formerly located in the Bowery in lower Manhattan. Strips of fabric are placed in bags, which are distributed to each quilter who will use them to assemble a block for the quilt. As each piece is pulled at random from the bag the quilter decides how to attach it to the previous piece to form a square. Schmidt describes the process simply as "take a piece, add a piece". Working in this way "reduces the noise and focuses on the moment" so that the quilter can concentrate on creating a block that in the end "always looks incredible". The technique helps novice and experienced quilters to move away from proscribed beliefs of what a quilt should look like and set the imagination free. At the end of each workshop, Schmidt's team collects the completed blocks and takes them back to her studio to pieces them together into a finished quilt for an honored recipient.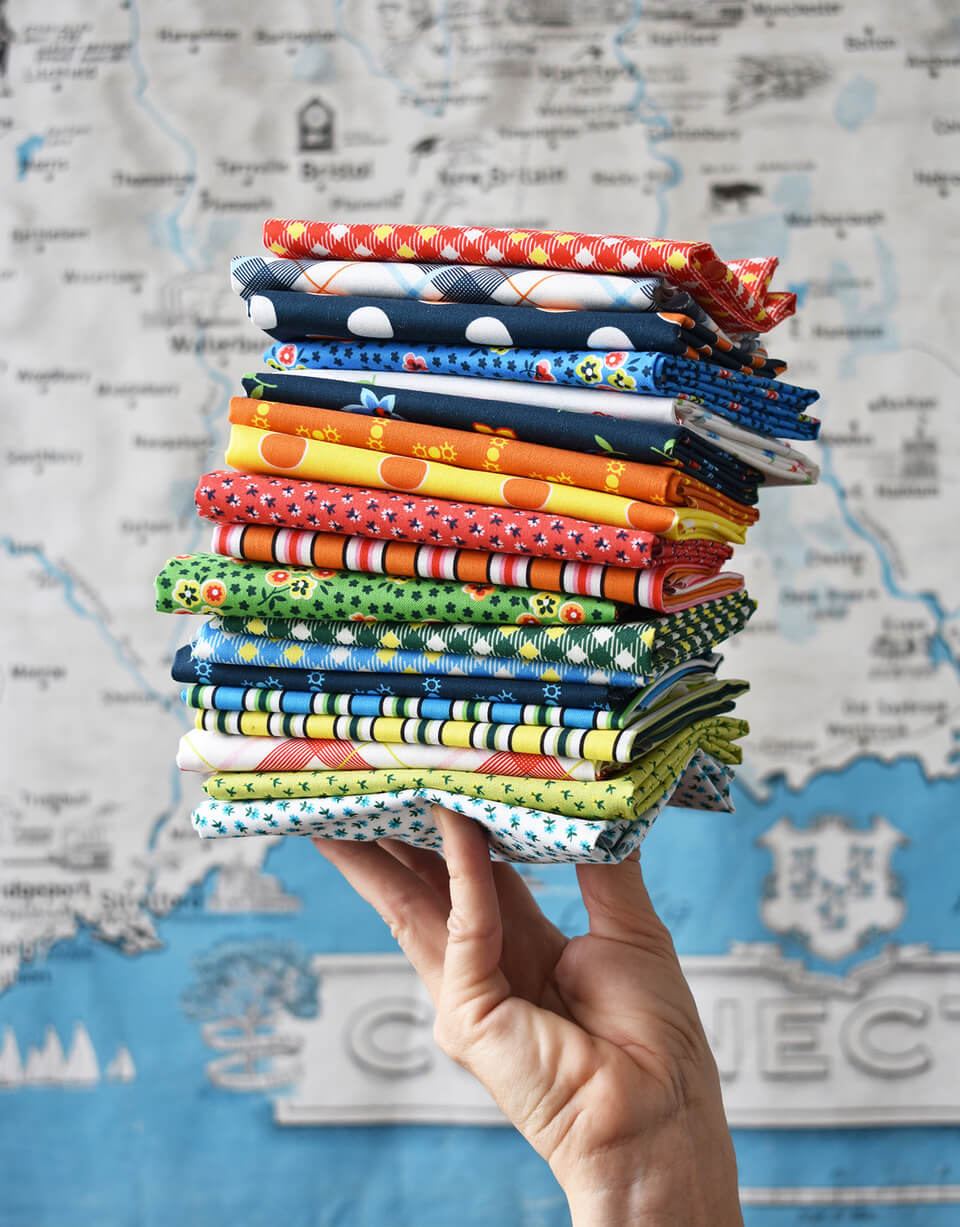 photo credit - Melanie Zacek
Like Schmidt I learned to sew at an early age, but never got much further than simple "up one side and down the other" garments. I always wanted to learn to quilt but as a home sewer I was intimidated by the process and didn't want to invest in classes with my limited skill set. Her advice to me was to start small, give quilting a try, and "allow randomness to be an element". Sensing that I might need a little hand holding she suggested starting with a chapter on improvisational quilting. "It's very forgiving. Don't be intimidated or scared. Start with whatever you have. Cut up old clothes. Use scraps...The most beautiful quilts are created without taking a class. Not knowing the rules is the best place to be. Recycle, cut things up as you go, sew them together, little by little." Armed with needle, thread, and sage advice from a fabric arts maven you can't go wrong. Just take a piece, add a piece, and then take another piece.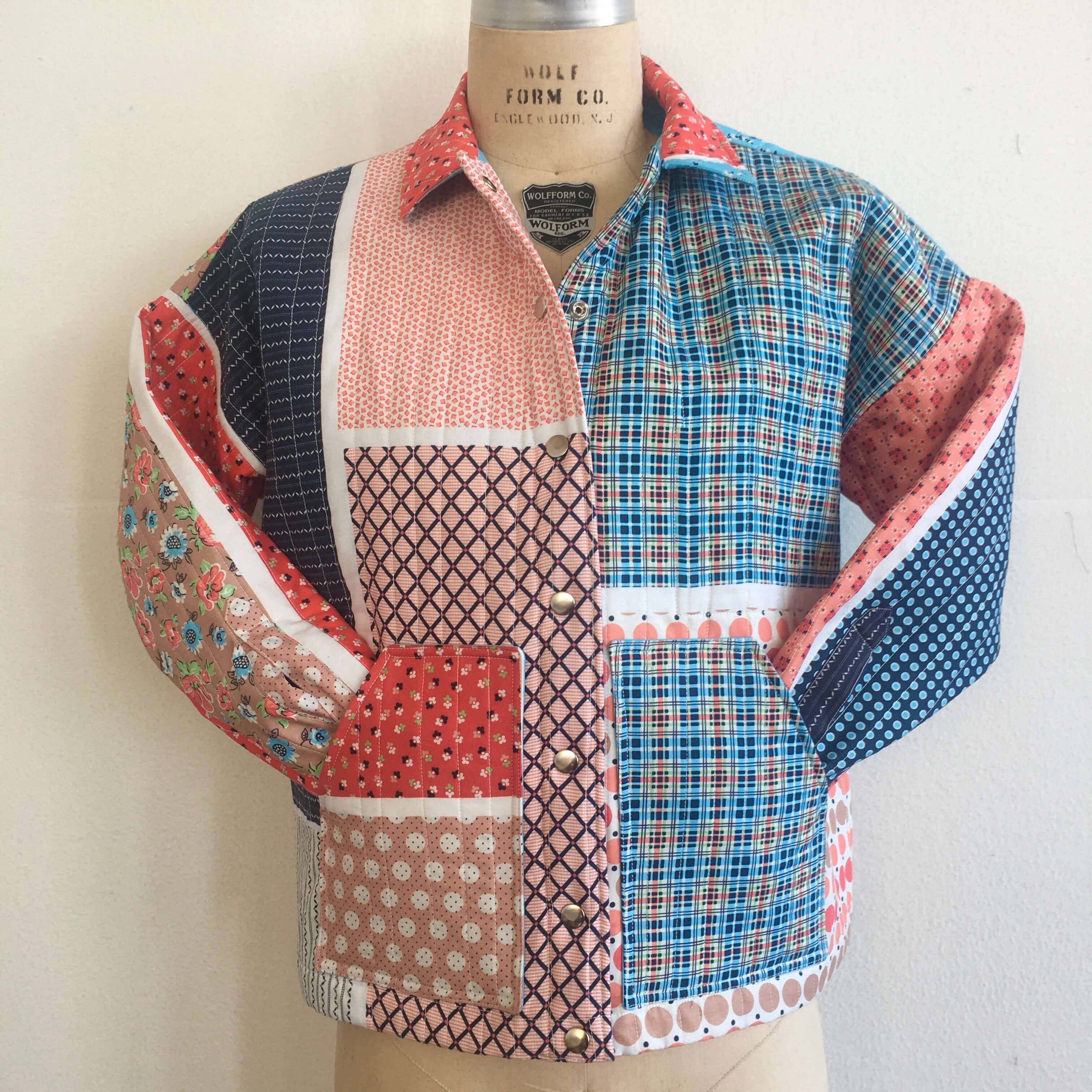 Ilford Jacket - photo credit Denyse Schmidt Quilts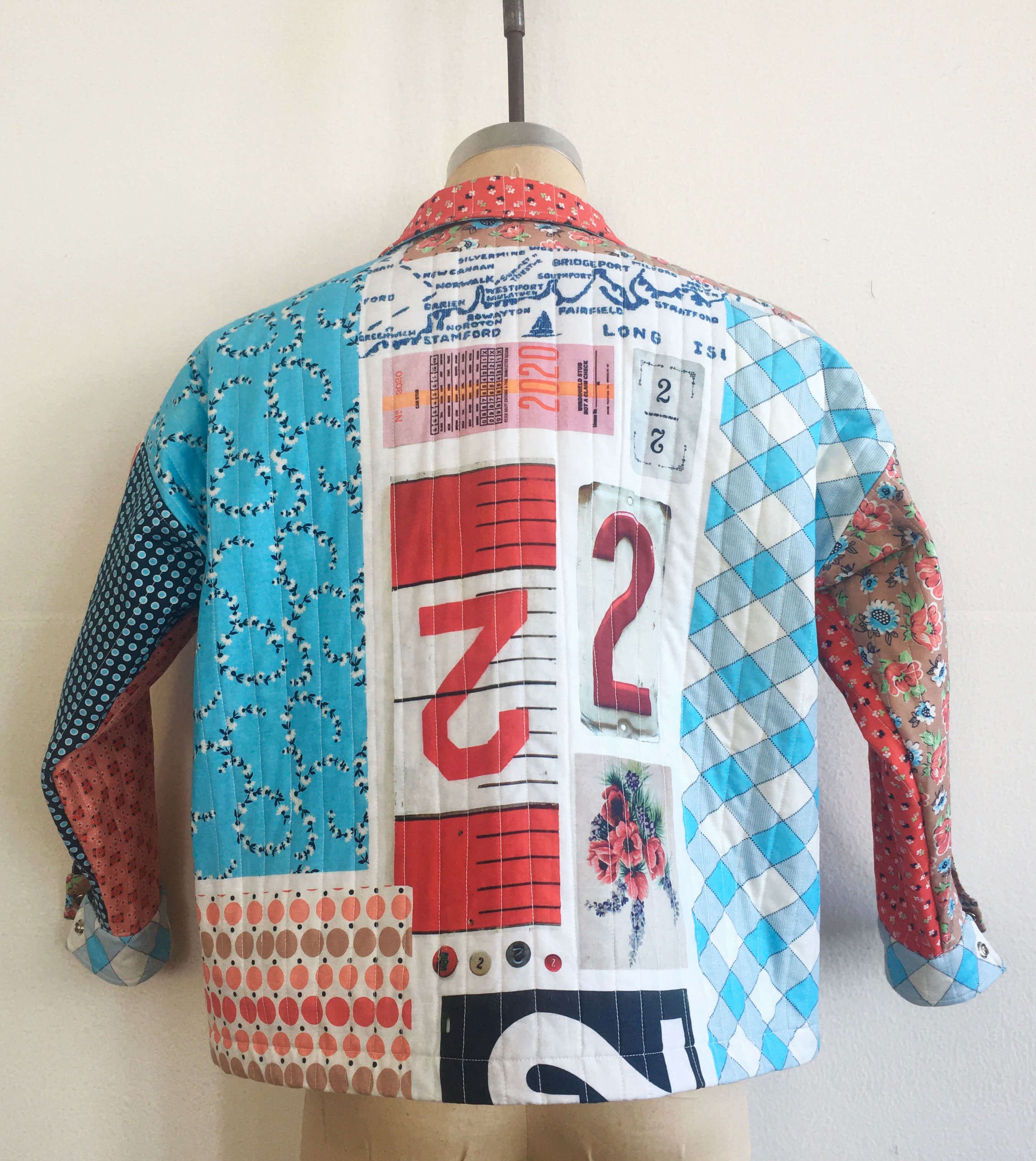 Ilford Jacket - photo credit Denyse Schmidt Quilts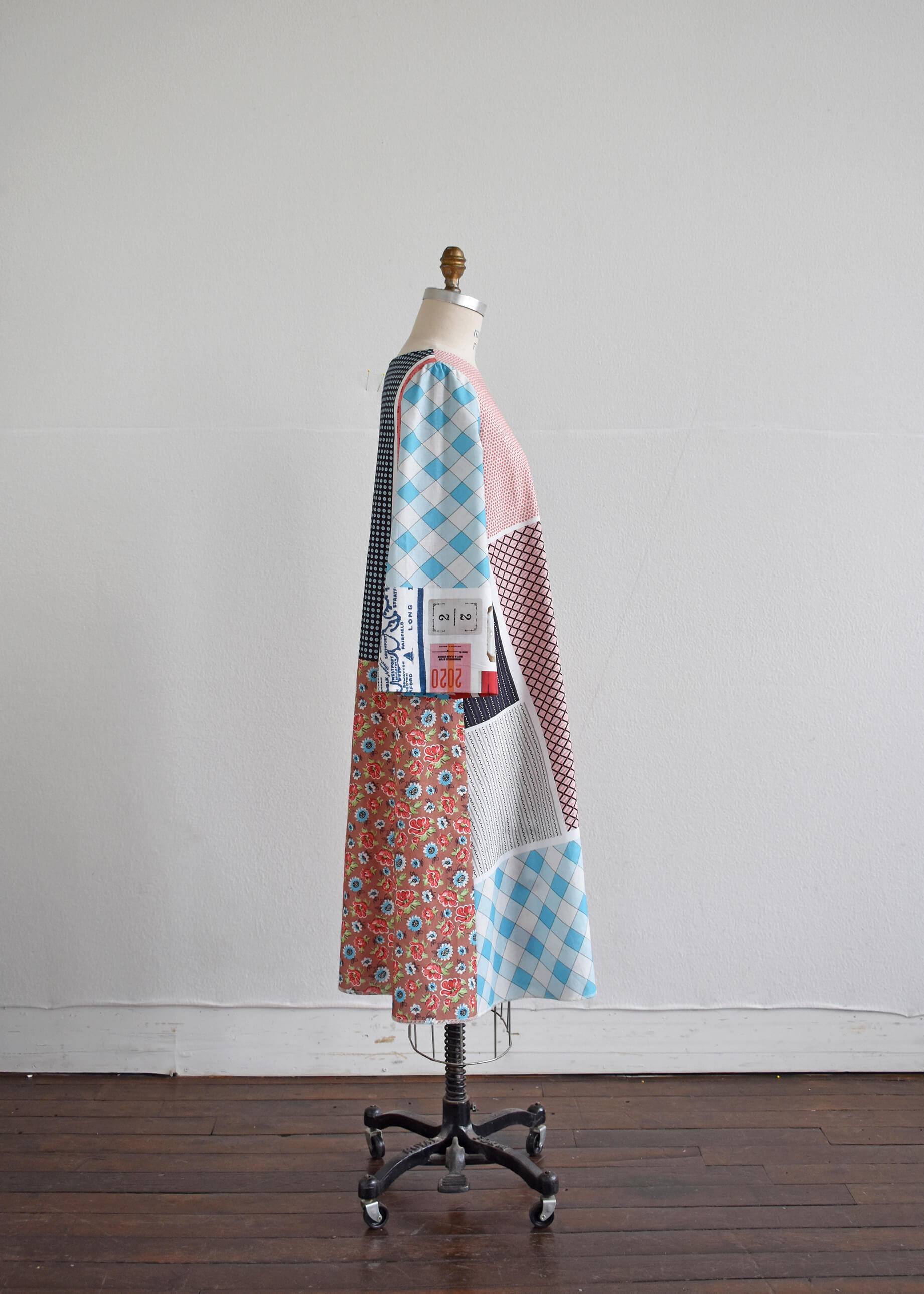 Trapeze Dress - photo credit Denyse Schmidt Quilts
On the horizon for Denyse is an open studio residency at Haystack that was postponed by the pandemic. I can't wait to see what comes out of her time there. If you want to keep up with this busy quilter you can follow her Instagram or visit dsquilts and keep up with all her work at Linktree.
Latest Posts
A link back to the top of the page.