Anne of All Trades on Making Things With Your Own Hands
Anne of All Trades on Making Things With Your Own Hands
"Making something has always been my passion," says Anne Briggs, the energetic force behind Anne of All Trades: a blog, YouTube channel, and Instagram account where she chronicles a life devoted to woodworking, building, blacksmithing, and homesteading. "Any time I can dream something up and make it," she says, "that's my favorite."
Anne has spent the past eight years building her woodworking and teaching into a business that includes numerous online tutorials, writing for publications like Popular Woodworking, and a social media following of thousands who tune in to watch and learn from her projects, adventures, and enthusiasm.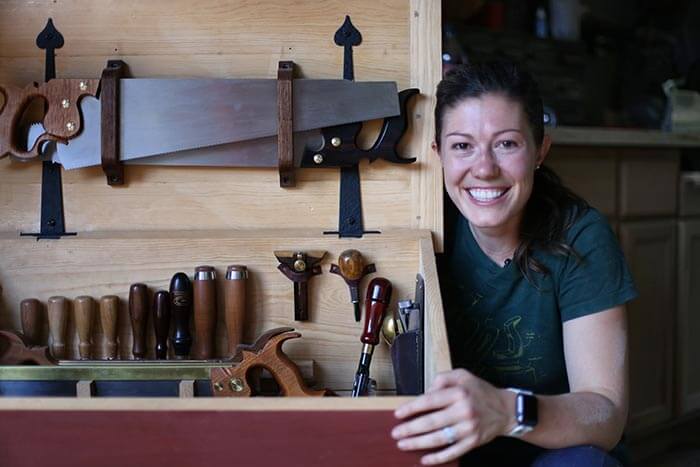 Getting Started
Anne of All Trades was born from Anne's love of building, which was planted at a young age. "As a kid, my grandfather had a woodshop and I always loved hanging out with him," she says. But visits to her grandfather were only a few weeks a year, and the rest of the time she didn't have any access to tools.
It wasn't until after college and some time spent living and working in Asia that Anne moved to Seattle and finally had a garage large enough to turn into her own woodworking shop. "I started buying old tools on Craigslist," she explained. "They usually had something wrong with them, but I could fix and resell them." She kept the best tools for herself, of course, slowly building her collection.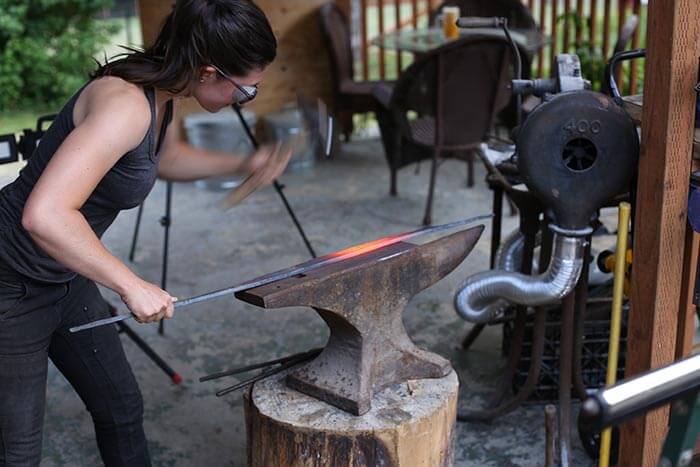 Anne credits her brother-in-law as well—an "insanely good woodworker"—for the inspiration in getting her started, but she's also sought out knowledge elsewhere. "We lived near a library and I must have read 300 books on woodworking that first year," she says. The foundation for Anne of All Trades began to fall into place, as her woodworking skills were honed one book and one tool at a time.
Building A Community
Eventually Anne found a mentor in her area, an older gentleman she met in a coffeeshop. "George is 94 years old, has 60 years of woodworking experience—and when I first asked if I could learn from him, he said no!" Anne laughs at the memory. Eventually, George relented and agreed to pass his knowledge along. "He realized that when he dies, everything he knows dies with him."
Anne found further mentorship when she was hired at Pratt Fine Arts Center in Seattle. "I had never taken a woodworking class—and there I was, running a school!" But she quickly realized her skills in marketing and organization were a good fit for what Pratt needed. Additionally, the job allowed her to take all the woodworking classes she wanted. "In retrospect," she says, "I am so thankful for the opportunity."
Community is a strong theme in Anne's work, both in her Anne of All Trades online videos featuring friends and collaborators, and in her personal life. "Skills are learned so much better through mentorship," she explains. "I really like being alone in my woodshop, but I always make a point to seek out teachers and mentors. The only way I'm going to get better is to take the time to spend with others."
A New Chapter
These days, Anne Briggs' woodworking is just one component of her business. After eight years in the Seattle area, building out a four-acre farm complete with a woodshop, barn, tiny house, and a collection of animals, Anne and her husband relocated to Tennessee. Their larger farm acreage outside of Nashville was a natural fit for the couple, and for the growing following of Anne of All Trades.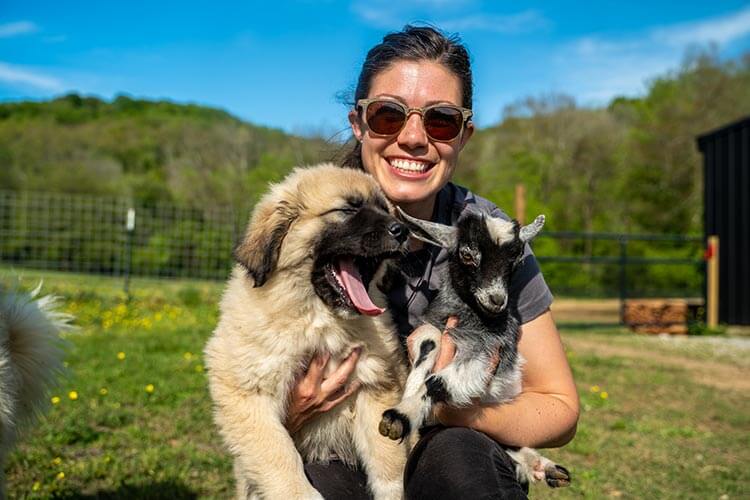 Anne has expanded her flock of animals—adding a milk cow, sheep, livestock dogs, more chickens, and beef cows this summer. A lifetime of new projects awaits, as she works to renovate and rebuild the farm. But Anne is as excited about the people as she is about the future projects on her property.
"The community here is so incredible," she enthuses. "They've connected me to exactly who I need to know to use this property in the best way I can." Southern hospitality was one of the reasons Anne and her husband Adam were drawn to the area. "I'm used to having more of a relationship with my neighbors," she says, having grown up in a close community in Montana.
Favorite Projects and Inspiration
With so many people staying home due to COVID-19 restrictions, there's a growing interest in craft and DIY projects. Anne Briggs likes to recommend woodworking projects like spoon carving as an introduction. "It requires very few tools," she explains, "and you can do it anywhere." When working at Pratt Fine Arts Center, Anne used to require all students take a spoon carving class.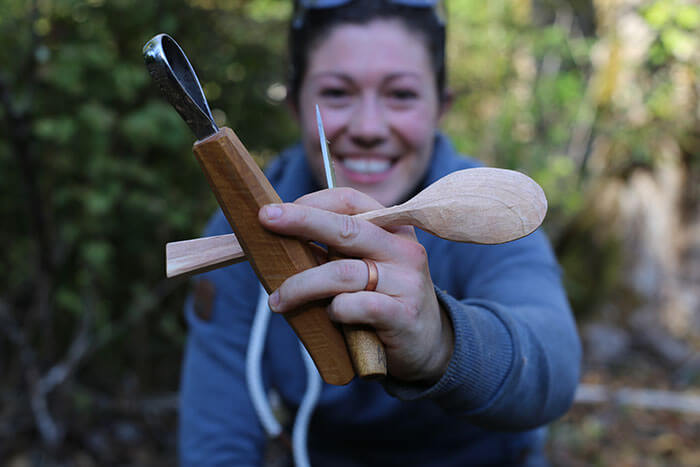 "It teaches you the important basics you'll need to know for everything else you do in woodworking," she notes.Anne recommends a straight knife and a hook knife, as well as a hand pruning saw to cut the tree branches needed.
All the things that come into play when you're building furniture, you can learn from spoon carving—how to cut, carve, and cure your wood," she says. "And it will help you become a more discerning person in selecting wood for other projects." Anne still carves spoons on a semi-regular basis, it's something she can do while watching TV with her husband at night. "I just bring a bucket into the living room and have a towel on my lap," she says."
For more advanced woodworkers who might be looking for a new project to keep themselves busy, Anne recommends her Dovetailed Whiskey Cabinet, which she featured in Woodworker's Journal magazine.
There aren't many young women doing woodworking in the public way that Anne is, but she credits other strong female role models: woodworker, author, and editor Megan Fitzpatrick (Popular Woodworking Magazine, Rude Mechanicals Press); custom furniture maker and designer Nancy Hillar; and Aspen Golann, who specializes in 17th and 18th Century furniture. "All these women are working at a phenomenal level."
Let's Build Today
But mostly, with her unflagging curiosity and enthusiasm, Anne wants to encourage other people to get out and build things; sharing knowledge and being a resource to her community, both locally and online, is part of her mission and personal values. By breaking down projects into small, approachable steps—whether it be building a tiny house, making a mandolin, or learning how to manage a milk cow—Anne empowers others to try for themselves. As she says at the end of all her online videos: "I hope this leaves you challenged, inspired, and excited to get outside and make things with your own hands.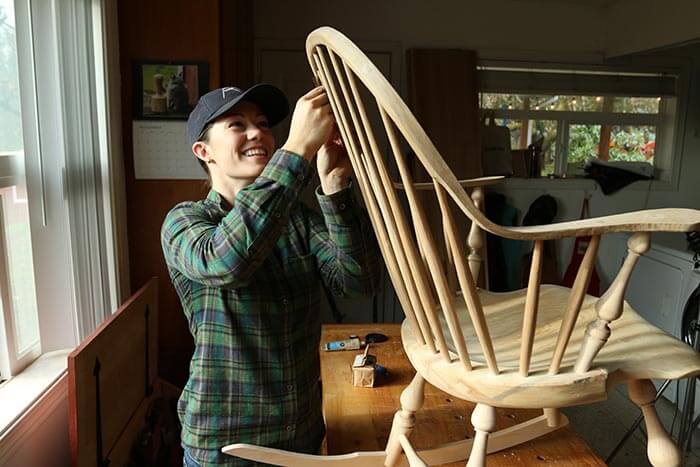 Latest Posts
A link back to the top of the page.