Get Shod – These Shapes She Carves, These Shoes I Crave
Get Shod – These Shapes She Carves, These Shoes I Crave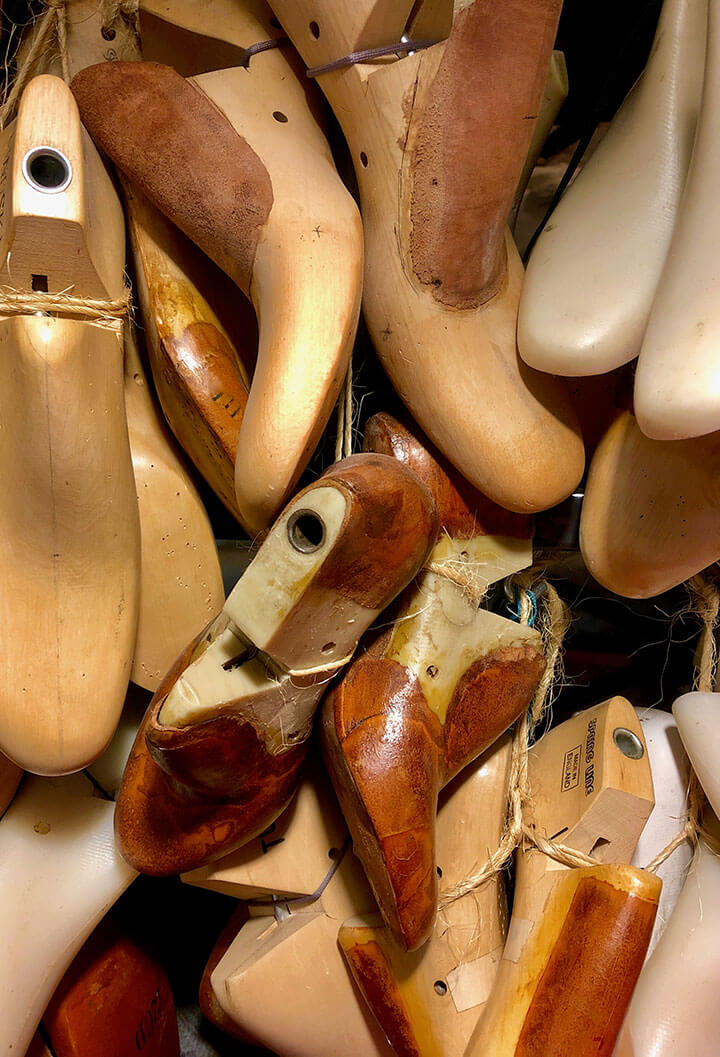 Stepping into my atelier you might notice the smell of leather, wood, shoe-polish, glue. You might notice the many tools hanging on one side of the wall. Above the two sewing machines a variety of threads in a rainbow of colors. Rolls upon rolls of leather, some machinery. Shoes and boots in different stages of the making process. Scattered across the surface of the large worktable: sketches, scissors, tracings of feet with measurements jotted in. There are pointe shoes laid out in a row, marked and ready for dance-rubber to be adhered (a job I have been doing one a regular basis for a Broadway Show).
Your eyes might wander – glancing at this and that – until you stop at familiar shapes carved out of a variety of materials. Every movie, play, and image of a cobbler's shop or shoemakers' depiction will feature them. LASTS! Hanging from hooks in a multitude of shapes, styles and sizes. Some clean and new, some heavily patched up with leather, many nail indentations on the bottoms.
"The Last comes first," as we shoemakers say. For the uninitiated, lasts are the forms that one makes the shoes or boots on. A representation of your feet – sort of – including style lines, heel-height, toe-shape, attitude. The most essential and trickiest part of the whole job. In my line of work it all starts here. The shoes can be lovely, but if they don't fit properly, they won't last, they might cause hurt and can damage the feet. As the lasts are made or adapted to the specifications of each individual client, they are beautiful in their uniqueness of lines, curves, character. Each last has their own story to tell. It is a hard-earned skill to understand how measurements, tracing and movement play together. Once again, experience through trial and error, learning from skilled craftsman and not giving up marks a successful maker.
The foot is a complicated structure – add to that individual style, fit comfort, volume, line, color – it's an intriguing puzzle. At times I find it very trying still to get the fit just right. High arches, sensitive areas, old injuries, protruding bones, unusual gait, water retention, bunions – to name a few. To understand, notice and factor in these variables is an art. Every conversation to have a pair of shoes or boots made starts with a close look at the feet, tracing them, taking a series of measurements for each, noting any issues, concerns and personal shapes that might influence the fit.
But, it is magical when it all comes together. That light pop of air that happens when the client successfully slides their feet into that final, sparkly new pair of shoes. Exhilarating and terrifying at the same time. You might have missed something, might have felt too confident in your observations. Some shapes can be very tricky.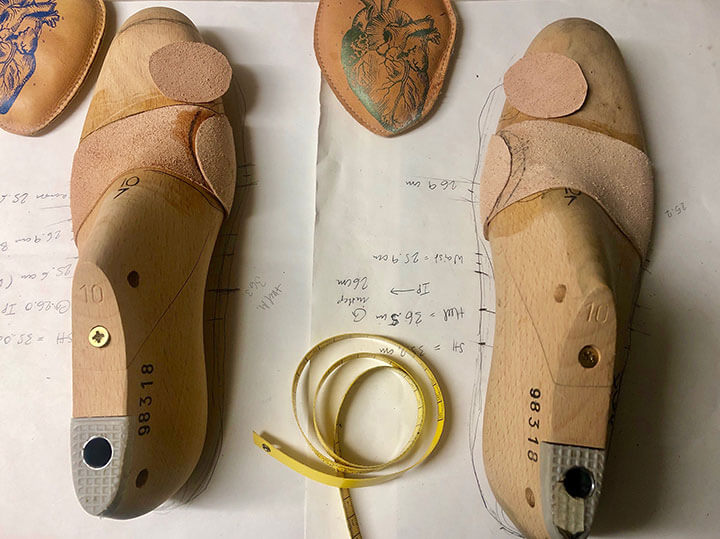 (Photo: Lasts getting "bubbled" to fit measurements/tracing taken. I use leather; some shoemakers use cork).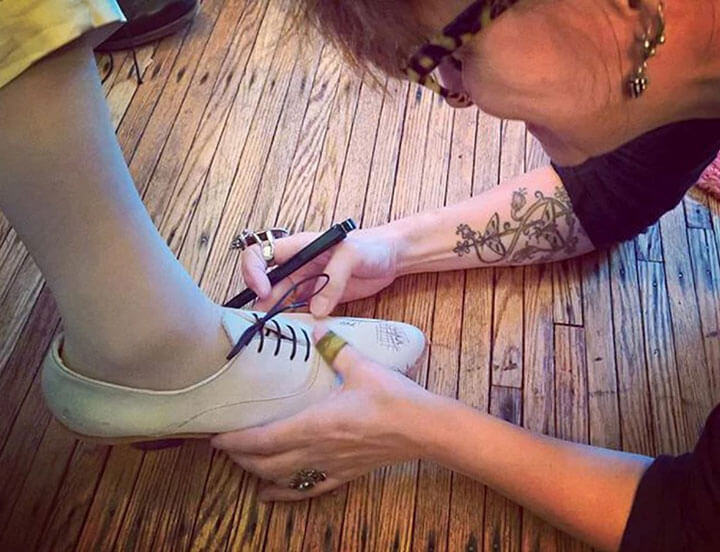 (Photo: A trial pair being fitted. Any pinching? Looseness? Do we need more room over the in-step? Can the toes wiggle like they should?)
A discussion utilizing samples of work, rolls of leather in a variety of textures, colors, animals might follow. In order to make a first fitting/trial pair a pair of lasts have to be made.
As mentioned "the LAST comes first". For many years I was respectfully restrained in my approach to reshaping and adjusting lasts. That attitude led me into frustrating moments of despair and sometimes thinking I really didn't know what I was doing (well that is also a trait of a perfectionist, I was told. The more you learn, the more you realize you don't know anything, therefore you make yourself crazy with doubt…)
Some of you might recognize that feeling. If you do, you also know the only way of getting over it is just pushing through, work to gather your experience and start feeling secure in your decisions – keeping your wits about you. You might still run into trouble every now and then – there's always a challenge right around the corner. But with every challenge you grow stronger and more knowledgeable. And – don't forget to appreciate your work once in a while. You might like the feeling of accomplishment.
In 2018 I got the chance to work four intense days alongside an all-female band of five talented shoe- and boot-makers learning from two last-makers in their workshop in the UK. Sharing two amazing instructors amongst us, we got on well. We carved our own pair of lasts out of a potato-shaped woodblock. Based on our measurements and style vision, we strategically shaped the wood with a variety of rasps. These four days were a game changer for me. I no longer feel hesitant and restrained. I gravitate to the shape, happily anticipating the task at hand.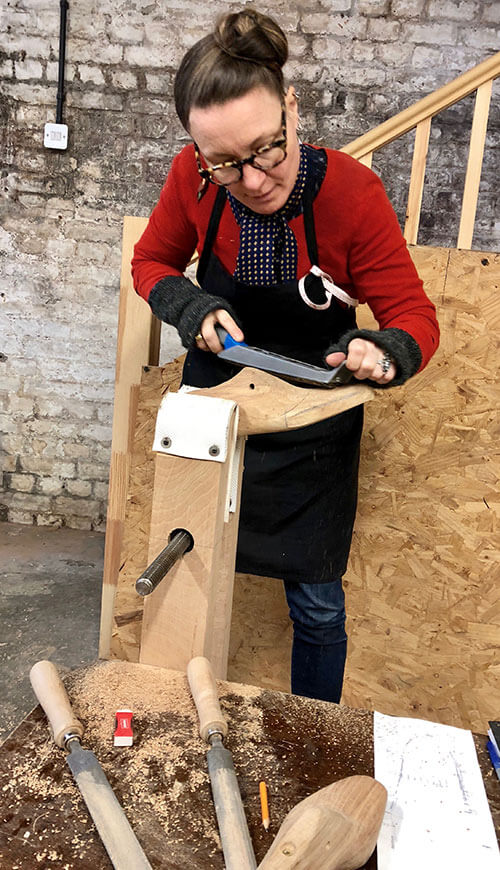 As always, the tools are key; is anyone surprised? If one attempts to carve or adapt lasts to fit individual client's measurements, one needs the rasps for the job: from rough shaping, to quickly removing large bits of material, to fine-tuning with delicate rasps. Finally, finishing off with sandpaper and sanding block, and maybe polishing them off with carnauba wax for that grain-enhancing pop!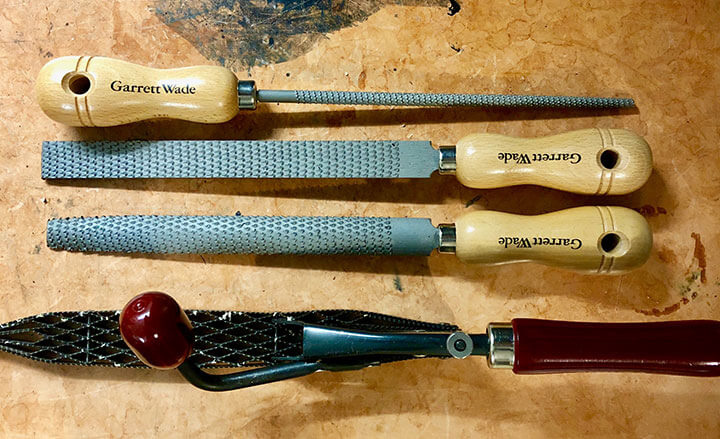 (Photo: These four were given to me by Garrett Wade product manager Anthony Francis to test-drive. I like the two middle ones – very rough, fast material removal. I love the Shinto Saw RASP – amazing (we also have a set of 3 ). I have to get used to the handle. The small, round one is not really useful to my task.)
And here a few out of my personal collection for smaller carving jobs, like building stacked leather heels. If you shape by hand you might start with a knife, some glass for scraping and a variety of rasps – before turning to sandpaper. Many shoemakers prefer to shape on sanding wheels – I really like the process of hand shaping. It's sculptural and physical – and it trains your eye.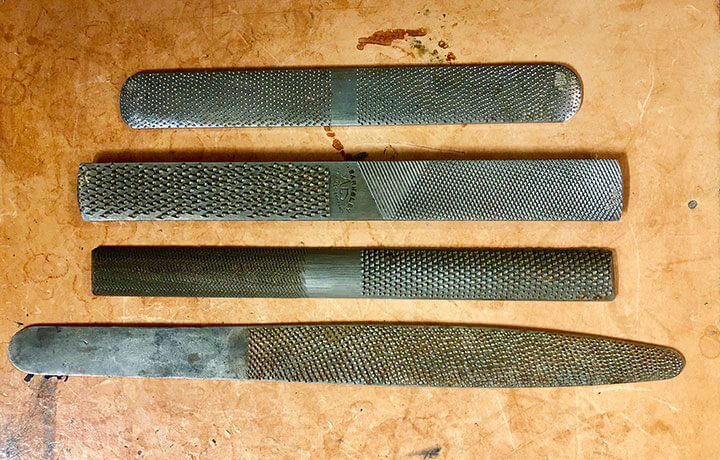 (Photo: From top to bottom:
—This Japanese Handmade rasp is one of my favorite tools, the apple of my eye. (someone just told me that the artisan that used to make these retired? I hope not…)
—This rasp from Barnsley/Woodware Repetitions in Sheffield, England, is great for rough jobs. An all-purpose rasp, love the weight of it in my hand.
—A really good rasp from Germany (I think it's from Goetz), the narrow width comes in handy for smaller, precise jobs.
—I got this one from a shoe repair supplier in New York. I think it might come from Eastern Europe. The rasp is very thin and flexible, which comes in handy on certain jobs.)
It takes dozens of hours to make a pair of shoes or boots. Between 80-100 hours, actually, of very physical labor – sometimes a whole month depending on style, decorative elements, leather, fittings, etc. Be warned: If you have ever worn something bespoke, that is made exactly to your shape, it is hard to buy commercial afterwards. There is no comparison to shoes made specifically for you, crafted out of high-quality materials, with attention to detail, shaped to your feet, tailored to your style. All that hard work is rewarded by a pair of shoes that can last you a lifetime, with proper care and attention.
Latest Posts
A link back to the top of the page.