Mike Bruno on How to Make Live Edge Wood
Mike Bruno on How to Make Live Edge Wood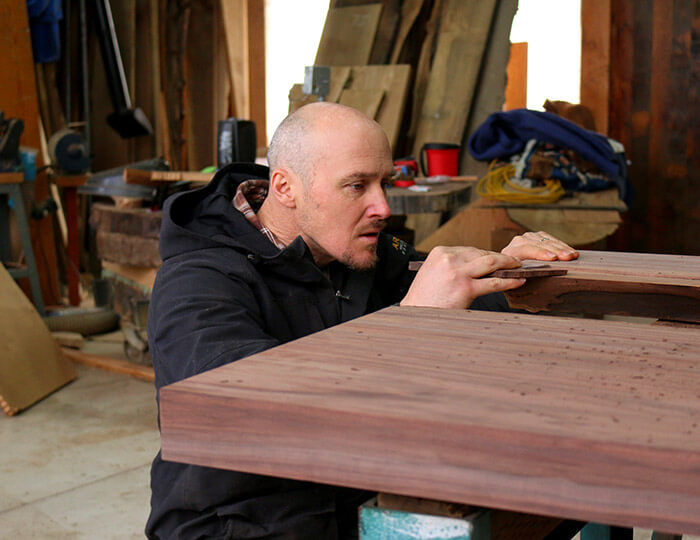 To learn how to make live edge wood, you should first learn about the history behind why Mike Bruno makes furniture from these pieces. Three years ago, an elementary school in a suburb of Portland, Oregon, had to remove two giant, 50-year-old sequoias from its lawns in order to rebuild. Former students, parents, and neighbors were horrified. The school called Mike Bruno, one of the few Oregon arborists who had the skills and equipment to take down their beloved trees—and then give them back to the school in the form of benches, planters, and a giant art piece incorporating the salvaged wood.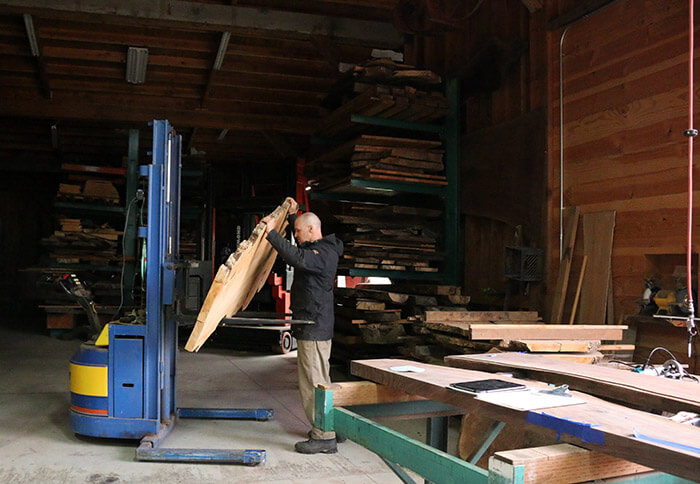 Bruno Tree Care and Sub-Urban Forestry, makes furniture from the trees he takes down. Since it involves specialized tools, learning how to make live edge wood is just part of the process. "Living in Oregon, we have a plethora of valuable hardwoods and softwoods that are constantly being burned as firewood," he says. After becoming a certified arborist in 1997, he bought a sawmill (he now has three) as well as the hydraulic equipment needed to extract trees from properties without destroying the surrounding lawn.
So much of Bruno's life is devoted to wood. By way of hobbies, he uses a lathe to turn large chunks, carving them into bowls — "It's a meditation," he says — and, with his daughter, shapes thin strips into feathers or teardrops to make jewelry.
What does it take, we asked Bruno, to turn a handsome tree into a handsome table? Here, learn about how to make live edge wood that can then be turned into tables and other furniture. (The conversation was edited for conciseness and clarity.)
What does the process of making custom furniture from the trees you remove look like?
Someone will call us to say they have a tree that has to come down, and would we be interested to look at the potential for salvaging. I ask for a photograph and want to know the general size to know if it's viable. Then I'll come out and look at it in person and give them some options about what they can do and what the budget will be. That's the first step.
The second step in how to make live edge wood is to take the tree down, then mill the lumber to the designated size. A year or so later, we re-address what they're after, because sometimes that changes, and make drawings to conceptualize it.
A year? How long do you cure the wood?
After drying it for one year per inch of thickness —outside for rot-resistant woods like cedars and redwoods, indoors for the rest — I'm ready to kiln dry it in a heated, climate-controlled structure. I use a neighbor's kiln. That takes between six days and six weeks.
What proportion of trees do you end up salvaging?
I would say typically one out of seven. A lot of that has to do with the species, but also the size. If a tree is really small, less than 20 inches in diameter, by the time you put the resources together to get it to the mill, you're not left with much usable material.
Black walnut and English walnut are bombproof hardwoods. They're really beautiful and will last for generations as a piece of furniture. In addition to walnut, I personally like to work with trees that have a natural resilience: cedars, black locust, white oak. That said we work with pretty much all types of wood, if someone has a project in mind for it.
How do you make a "live edge" wood, following the contours of the bark, on these reclaimed pieces?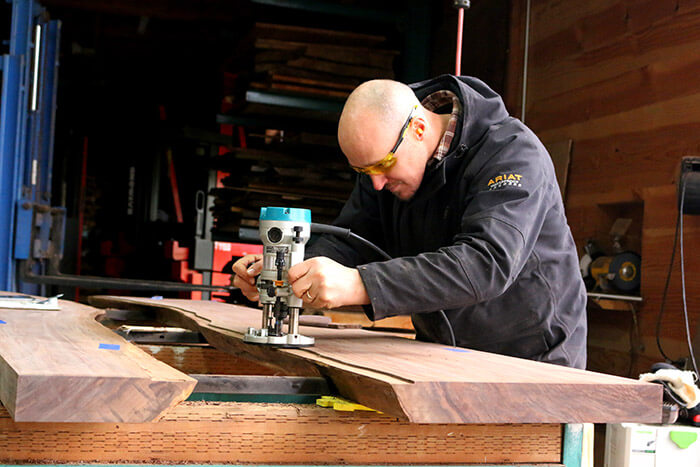 Nine times out of ten, the bark falls off in the process of woodworking, just because of the nature of the way the wood dries. Once it comes off, the natural cambium layer underneath is beautiful if you can keep it intact. I basically use a medium-sized hammer and another block of wood to set on the edge that the wood and the bark meet, and I shock that area by hitting the piece of wood on that line. I do that continually along the edge until I create a fracture between the bark and the wood. That creates a nice clean natural edge, as opposed to kind of scraping or sanding it away, where you obliterate the natural beauty by severing the bark from the wood.
What custom woodworking projects do you primarily take on with salvaged wood?
The most typical end products we build are kitchen tables, dining room tables, or a bar and set of tables for a restaurant or public space. In addition to that, we do artistic pieces, both functional and the type you hang on the wall. I love furniture that has minimal cuts, with lots of natural bark and knots and hollow spots. Even the decay or the cavities, the parts you normally get rid of, I retain as much as possible.
Latest Posts
A link back to the top of the page.