​Milk Paint: An Essential Tool for the Green Woodworker
​Milk Paint: An Essential Tool for the Green Woodworker
I have a confession to make. After a decade of carving and green woodworking, I just tried milk paint for the first time this year. For the past three years, I have been carving intricate feathers on my spoon handles. I carve the feather shape as precisely as I can, but the coloration is whatever wood it is made from. I have told myself this is enough; that I am taking elements from both and blending them in design. But a part of me has always wished that I could find the right paint to make more visually accurate feathers. I wanted to be able to make a feather handle that someone could pick up and recognize without reading the label.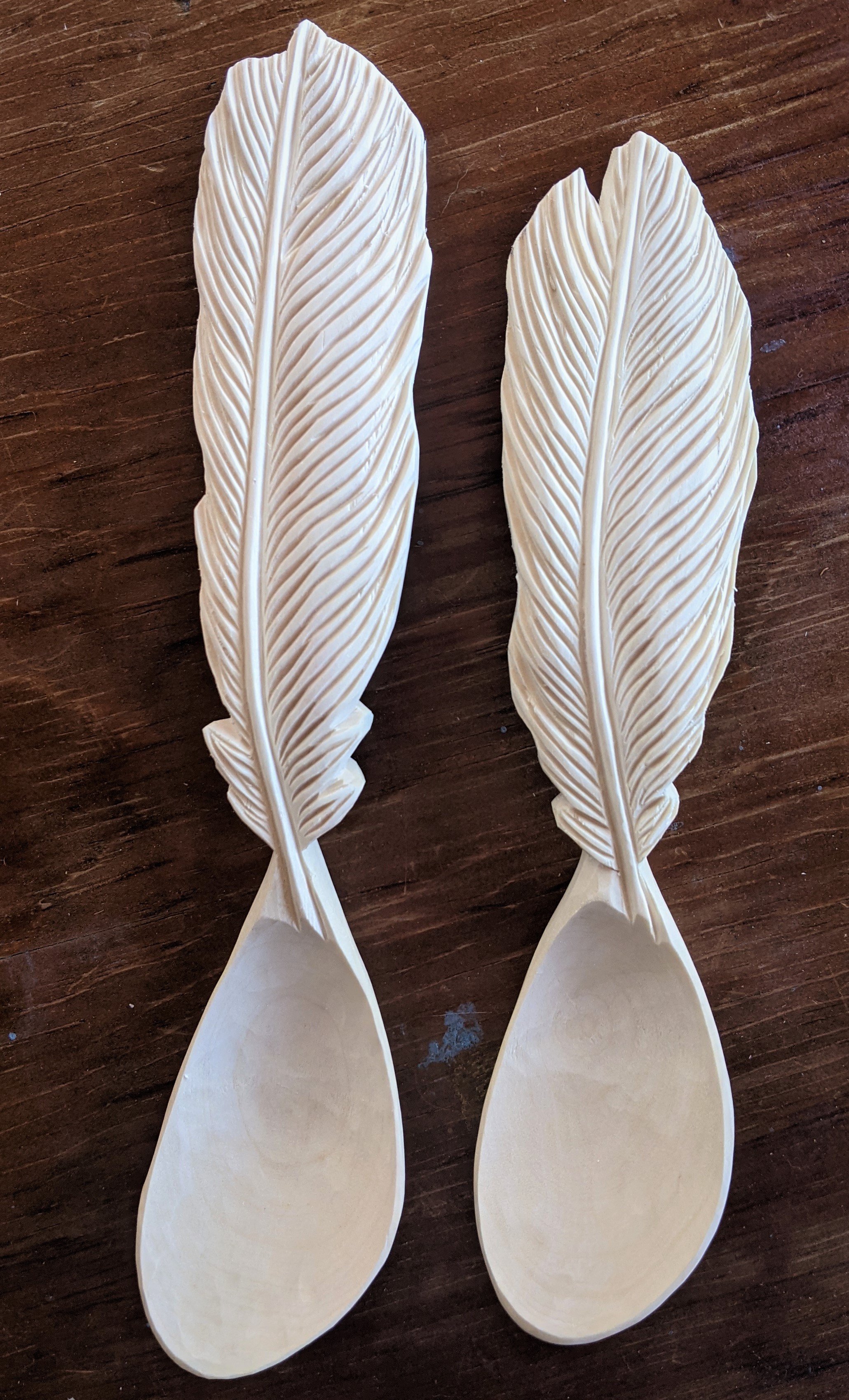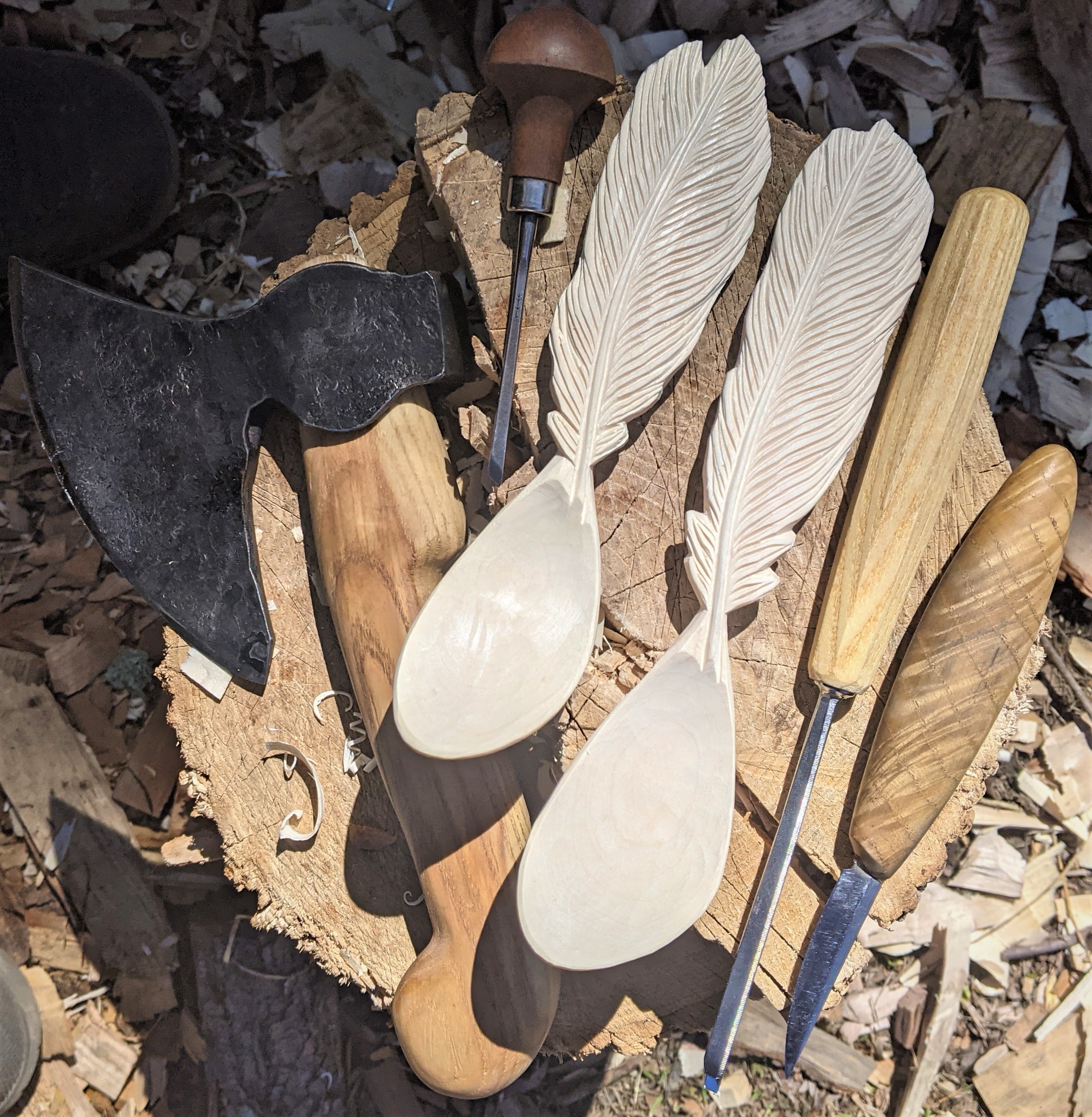 Over the years, I have seen milk paint used beautifully in the world of green woodworking. There is also a lot of great information out there about how to use it, and how wonderful it is for refinishing furniture. But somewhere along the line, I heard it was expensive and not all that different from acrylic paint, which I already owned.This was enough to dissuade me from trying it until a few weeks ago. I loved it the first time I used it. Most of my assumptions about milk paint were incorrect, and I regret not trying it sooner. I haven't been this excited about a new tool or material in a long time and needed to share my experience. Here are some reasons why milk paint is an essential part of any green woodworker's toolkit:
Milk Paint is Easy to Mix and Customize, and Cleanup is Simple
The Real Milk Paint Co. makes mixing the paint seamless and simple. The powdered paint comes in a removeable bag along with a marble for mixing.
Measure out the powder and water in a 1:1 ratio and pour directly into the can provided. Screw the lid on tightly with the marble inside. Shake the can for 5 minutes and then allow it to rest for 15 to 20 minutes. This allows the pigments to fully dissolve and the froth to dissipate. It's hard to tell how rich the colors are when the paint is in powder form, but there is a certain joy to opening the mixed paint for the first time and seeing the transformation.
Since you mix it yourself, you can also choose how thick you want to make the paint. Adding more paint powder will make a richer, more opaque paint, and adding more water results in a translucent paint similar to watercolor.The mixed paint should last for a few days, longer in the fridge. Once you are done painting, simply clean up with water.
It's Affordable and Safe
When you compare it to other fine art paints, milk paint is a very affordable option.When you factor in its versatility, ease of use (mixing only what you need each time), depth of color and high-quality, durable finish, milk paint becomes the ideal paint for green woodworking projects. Milk paint gained popularity as a safe paint because it does not emit VOCs (volatile organic compounds). This means it is safe to use in small spaces, like apartments, and around small children and pets without worry. Its main components are casein (milk protein, hence the name), a strong base such as lime, and pigment.It is always important to consider toxicity when painting objects that will be used with food or around kids. The Real Milk Paint Co's milk paint is non-toxic and is safe to use on woodenware and even kid's toys. It is also safe for the environment, and leftover paint can be disposed of right in your backyard.
It Blends Like Watercolor with the Look and Finish of Acrylic
If you have painted with multiple types of paint, you have discovered that each has unique strengths and weaknesses. Acrylic paint can be blended nicely and forms an opaque finish, but the paint sits on top of the wood and can build up unevenly on the surface. Watercolor blends beautifully without buildup, but it is translucent, and never cures. This means it will wash out when exposed to water again. This, plus the fact that many watercolor pigments are toxic, means it should never be used on a food utensil.
Milk paint seems to combine the best qualities of both. Since the paint is water soluble, the colors can easily be stacked and blended for different looks. I painted with it like it was watercolor by adding water directly to the surface to wash out certain areas, and mixing colors right on the feather. The colors can all be found in nature and made a perfect palette for feather painting. Once the paint dried, I went back and added more sharp line details like the black stripes and the white tip of the blue jay feather.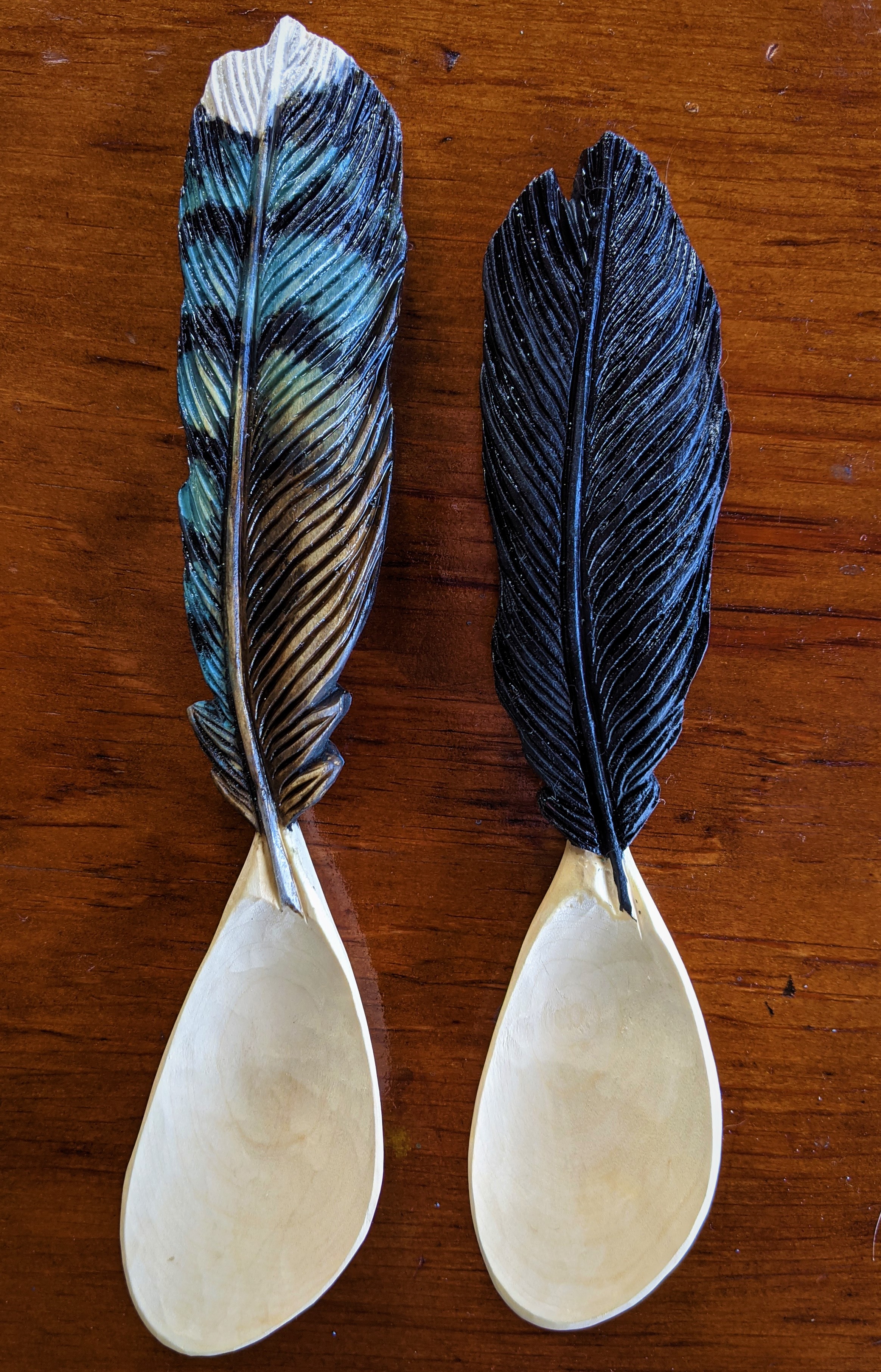 The Finished Results
For me, the most important thing about milk paint is how incredible it made my spoon handles look. I was blown away by the finished result. Since milk paint is a porous paint, it soaked into the wood and dried as a solid, even finish. All the blending and color work I had done with the wet paint didn't shift or darken when it dried. Milk paint is a very durable paint that actually becomes more durable over time. Milk paint is also vapor permeable, meaning that moisture from the wood will pass through the paint. This makes it great for wooden utensils, which get wet regularly. The paint will gradually fade over time. I personally love this milk paint "patina," but it is also very easy to repaint. All you need to do is clean the surface and repaint. If you've ever had to strip old, chipped paint off of a chair or dresser, you understand how important this quality is.Milk paint can be treated with one of the many finishing oils available to preserve its finish over time, especially on something that gets used often, like a wooden spoon. I coated these with Half & Half (tung oil and citrus) for a long-lasting, waterproof finish. The tung oil should be applied in a well-ventilated area, such as a porch or balcony. Once it is dry, it is food contact safe.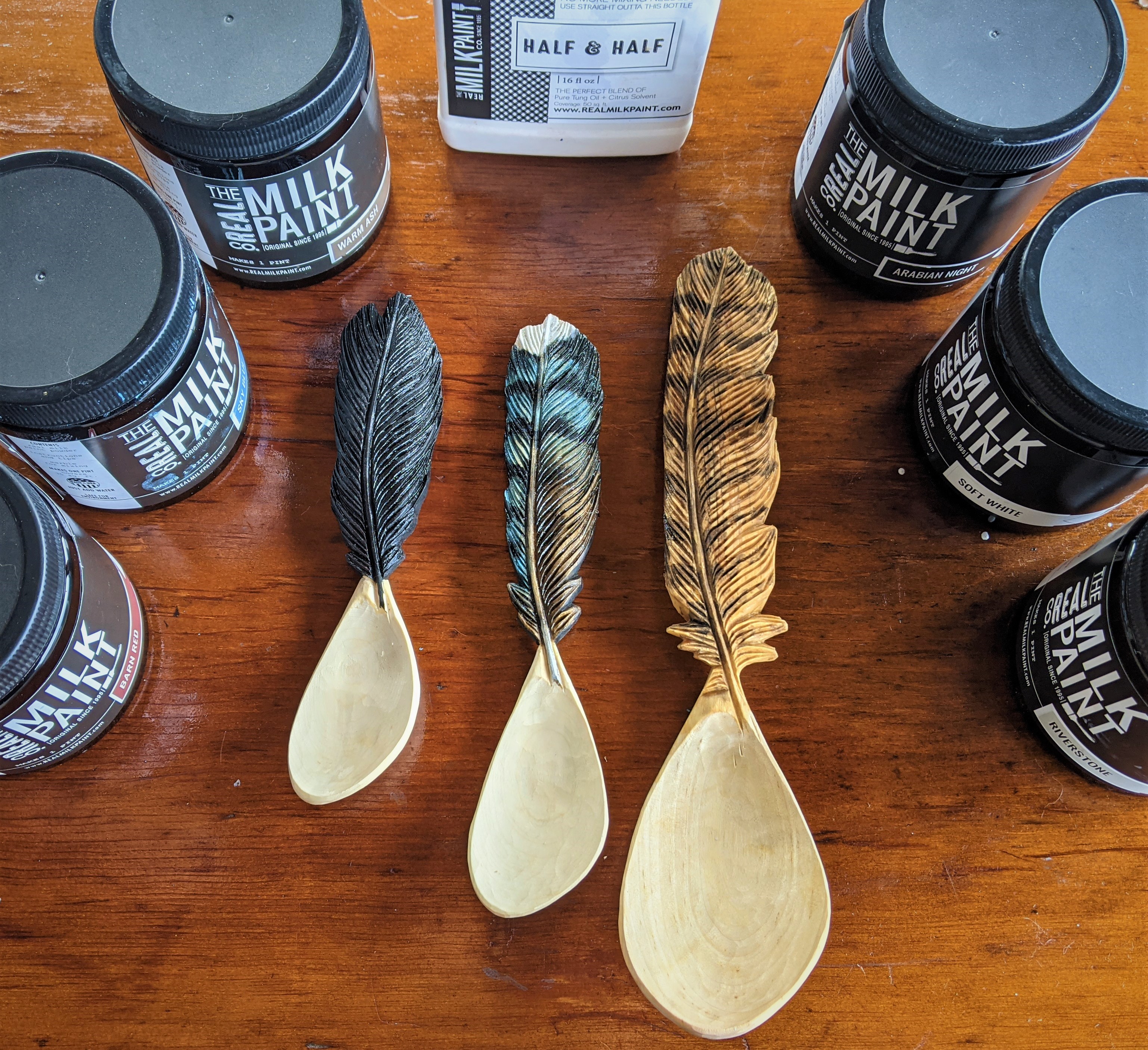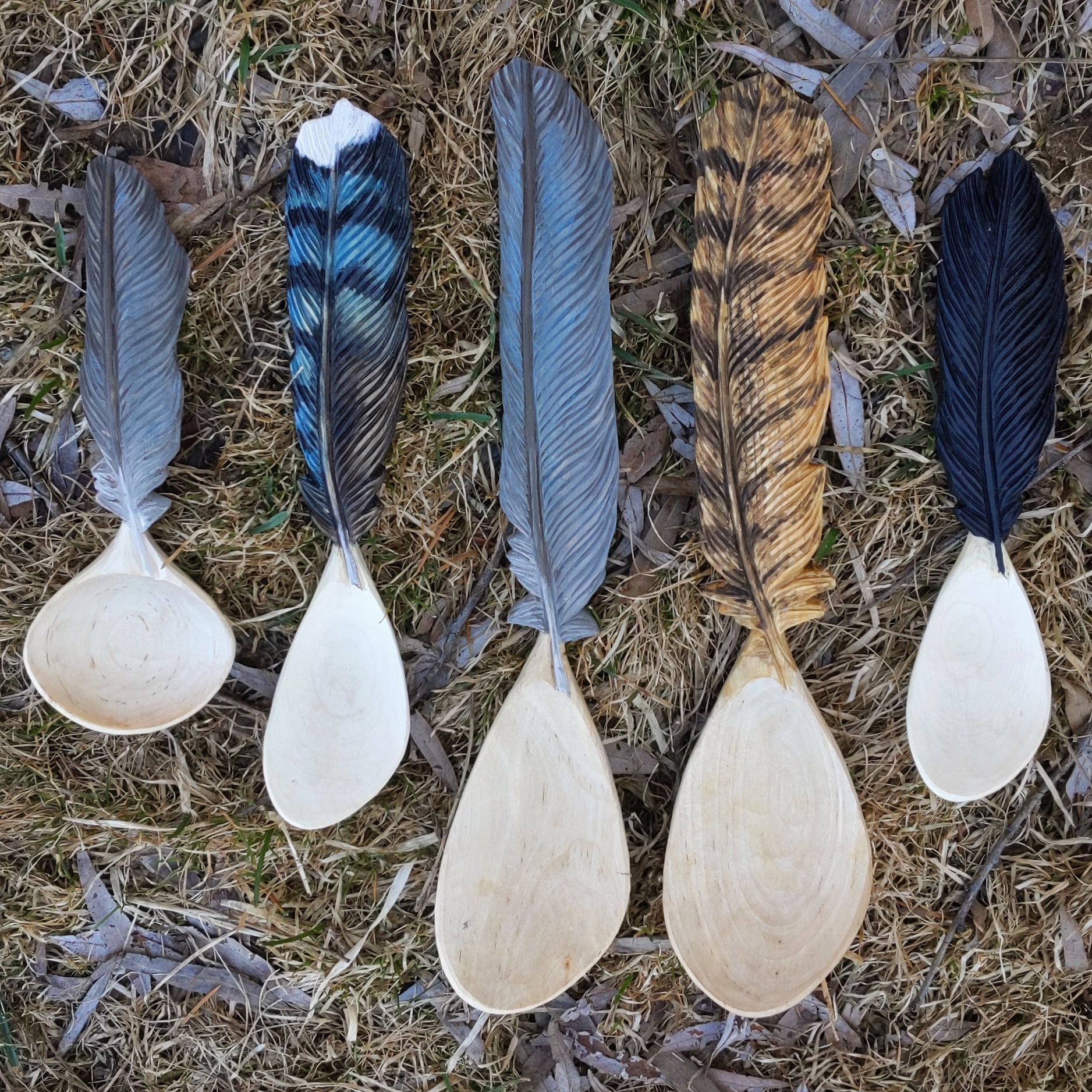 All in all, I haven't been this excited about a tool or material in a long time, and it feels like a big step forward in my creative journey. Hopefully, this has inspired you to try milk paint in your woodworking. There are a wide array of colors, which can all be mixed together to make new combinations, so the possibilities are endless. In addition to painting your hand-carved items, you can also repaint furniture using the myriad of paints and finishes available.
Happy painting!
Latest Posts
A link back to the top of the page.