Two Cultures, Two Magnificent Woodworking Traditions
Two Cultures, Two Magnificent Woodworking Traditions
Japanese vs. Western Saws
When comparing Western and Japanese saws, it's important to understand that each is designed to function inside a particular tradition—specifically, a particular method of holding and supporting the wood that's being worked. In the West, woodworkers tend to rely on heavy benches equipped with vises, clamps, holdfasts, and jigs. Japanese work-holding, on the other hand, is far more likely to use the woodworker's body itself as a work-holding device, while a Japanese workbench may be as simple as a beam on a couple of sawhorses. (It could also just be the floor.)
This accounts for the primary difference between Western and Japanese saws: cutting direction. Western saws almost exclusively cut on the push stroke—that is, material is removed as you push the saw forward through the wood. Japanese saws are the exact opposite, removing wood on the pull stroke. (Japanese hand planes, for similar reasons, are also pulled toward the user and not pushed.)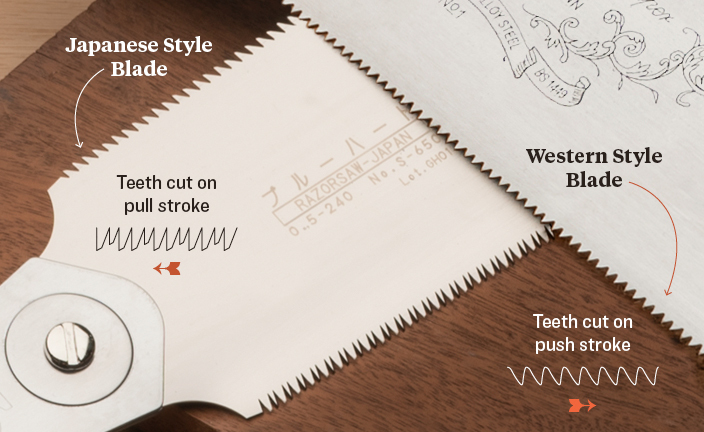 In practice, this means a Japanese saw can be thinner than its Western counterpart, as there's no risk of the blade jamming, bowing, or bending inside the cut. The metal itself isn't supporting the power of the cut; there is tension on the blade, not compression, while it engages the wood fibers. While a Western-style saw can also be quite thin, it requires extra support to remain straight in use, usually in the form of the brass backing rib seen on common tenon and dovetail saws. (It should be noted that many woodworkers actually prefer this Western style of backsaw, where the extra weight on top can make it easy to find a perfect 90-degree cutting angle simply by feel.)
If you're going to use a Japanese saw in your Western shop, you'll need to make a few adjustments. For one, your existing bench hooks will either need to be replaced or simply moved to the far side of your workbench, since they're now anchoring against a pull stroke. Your stance and body position will also change, particularly with larger saws like the Ryoba, which is designed to be used with two hands, the user standing centered on the cut line.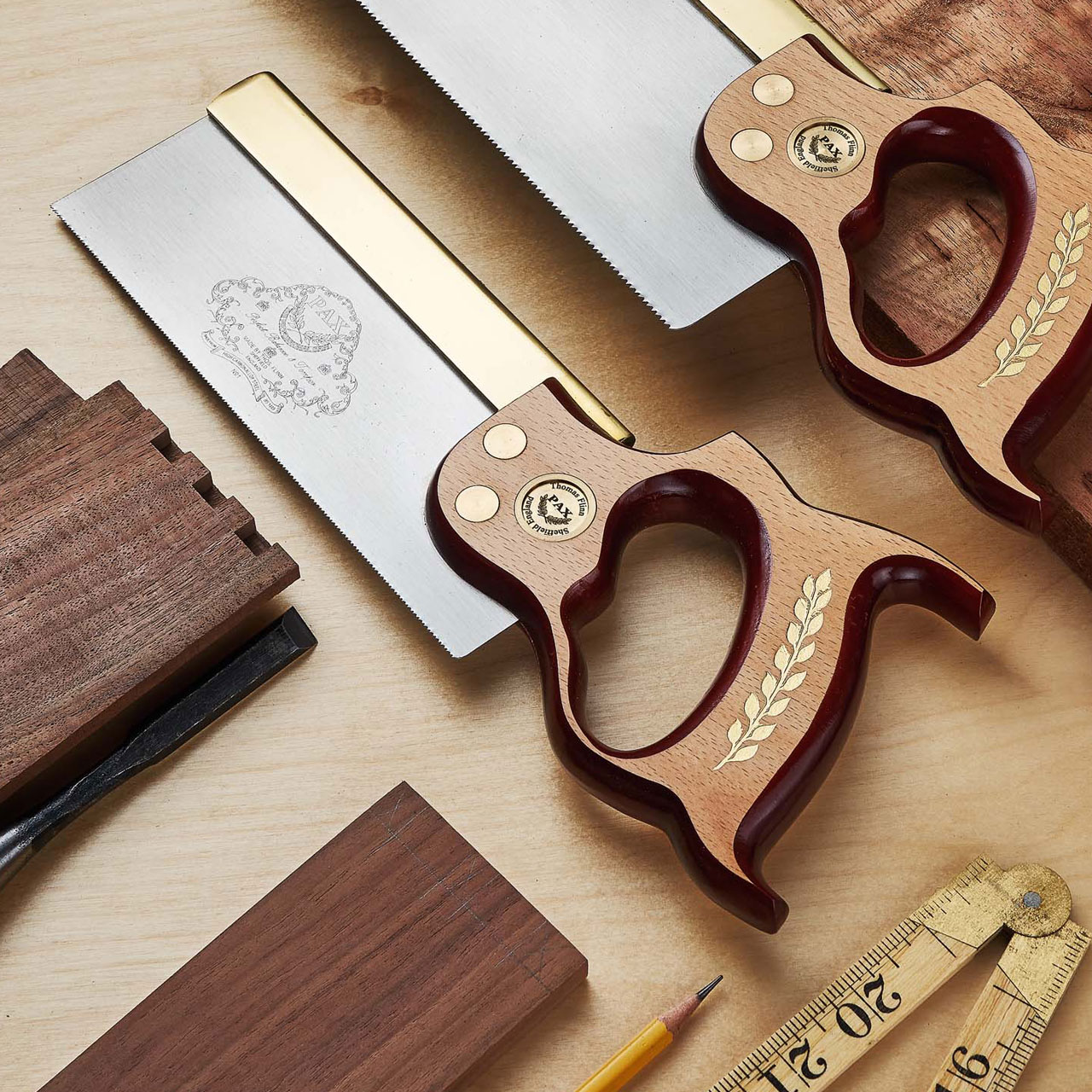 You may also want to experiment with lowering your work during sawing; one variety of Japanese sawhorse stands as low as 6" to 8" off the ground. You can perform crosscuts and rip cuts easily with these, using your body weight (a foot or a knee) to counter the cutting stroke.
Many Japanese saws are designed and tuned to work in softwoods. If you tend to work in pine, cedar, or even "soft" hardwoods like poplar, you shouldn't encounter any troubles. If you frequently use, say, hard maples or exotic hardwoods, you might run into difficulties. Check the details on the saw you're using to verify what kinds of wood it's set up for.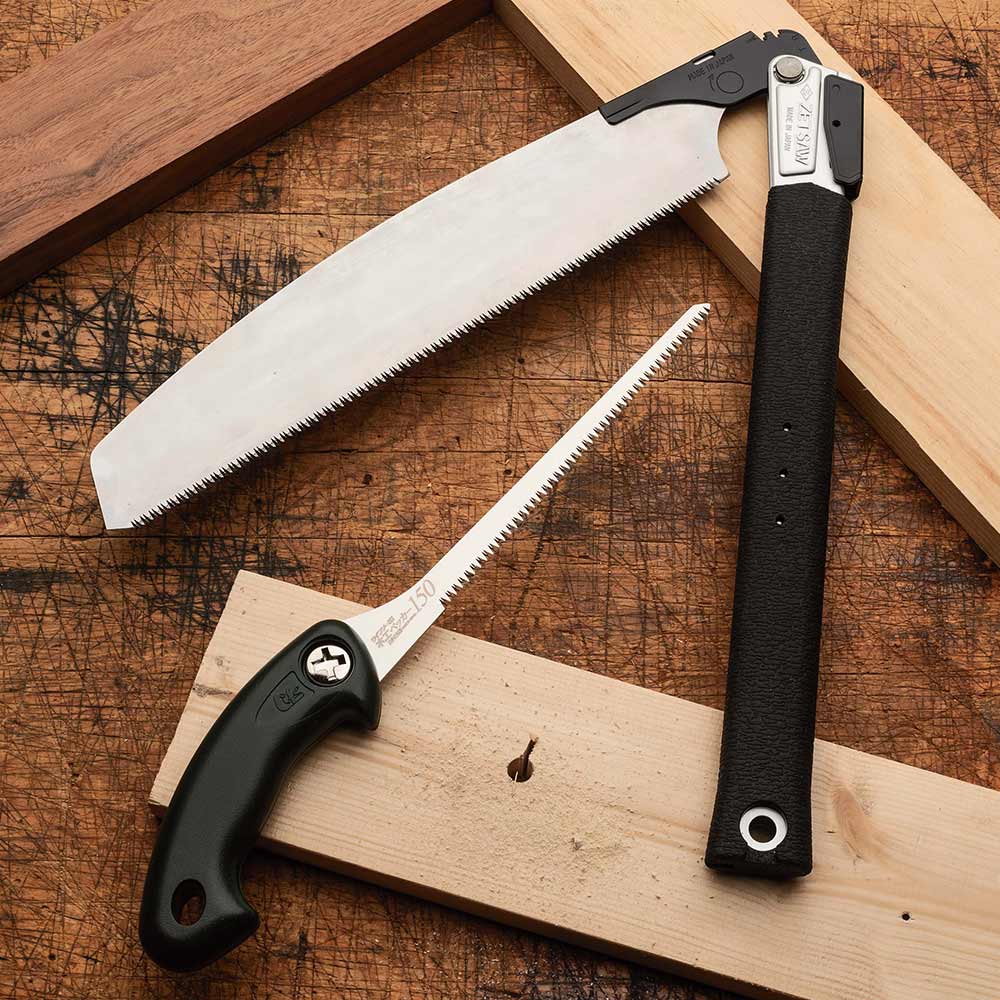 Despite a recent resurgence by small makers of Western-style hand saws, it's safe to say that Japanese saws outperform Western ones at lower price points. If you're on a tight budget and you're starting from scratch, the Japanese tradition has a lot to offer. It's especially attractive if space is an issue; apartment woodworking becomes much easier if you adopt some Japanese tools and techniques.
Our Set of 4 Japanese Saws is an affordable, high-quality set that might be all you ever need. If you're in need of something burlier, might we direct you to your 3 ft. 1 Man Crosscut Saw. All the power of a chainsaw, powered only by your hand. It's a beast.
An increasing number of shops these days make use of both types of saw. Japanese-style pull saws might handle rough dimensioning, re-sawing, and flush cutting, while Western-style backsaws take care of the joinery. Other users might swear by Dozuki for cutting dovetails and tenons. Here, personal preference is key; the only way to find out what you like is to experiment. Whichever tradition you prefer, there are always constants: make sure your tools sharp and well-tuned, let the weight of the saw do the work, and measure twice before you cut!
Latest Posts
A link back to the top of the page.